By Kiley Brown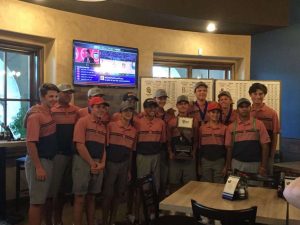 The boy's varsity golf team won the Nevada Class 4A state golf tournament on Tuesday, May 15 at Reflection Bay Golf Club, making it their first title since 2012. They shot a two-day total of 23-over-par as a team.
"The moment after we won state was the best moment of the season," Joseph Dotta, junior, said. "Everyone was waiting on 18 and it was really cool to see all the support from them."  
The team did not place a golfer in the first five spots but still secured a winning title. Junior Michael Sarro scored the highest, shooting a 146 to place sixth. Junior Benjamin Sawaia and sophomore Brett Sodetz tied for seventh. Captain of the team, Dylan Fritz, junior, was 19th.
"This year was fantastic; I've been at Coronado for three years now and have been on some good teams, teams with college bound players," Fritz said. "This team was really good this year. We were able to come together at the right time and win state together."
The Cougars had a successful year, setting state records for both an 18-hole match and a 36-hole tournament during the year.