By Ryan Kelleher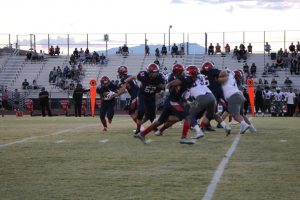 The varsity football team lost 16-14 to the Silverado Skyhawks in a televised home game on Thursday, Sept. 6.
KVCW-DT2 hosts a weekly segment known as Thursday Night Lights, where one CCSD football game is broadcast live on television. The competing schools battle for a trophy which commemorates them as a Thursday Night Lights' victor. Teams generally only compete in one Thursday Night Lights per season, so the Cougs will have to wait another year for a chance at the title.
The cameras also caught the marching band and varsity cheerleaders during the live event. The varsity Cougarettes performed their pom routine in a special feature with host Chloe Beardsley from Channel 3 News before the game.
"Since the game was live, I thought I would be more nervous," Michael Tokos, junior, said. "I actually felt no difference while playing. We got caught up in the game and completely forgot we were being filmed."
In the first quarter, the Skyhawks scored a touchdown but failed to complete the two-point conversion.  They scored again in the second quarter with a 38-yard field goal.
Cougars fought back later in the second quarter, when Robert Edwards, junior, scored a touchdown off of a blocked punt, and kicker Gavin Wale, senior, completed the conversion kick, bringing the score to 9-7.
"We had some great plays in the game, but mistakes were definitely made," Adam Townsend, junior, said. "It's awesome to know some of our great plays were broadcast live."
The Skyhawks quickly scored a touchdown early in the third quarter, extending their lead to 16-7. Senior Semaj Bolin answered for the Cougs, running a 96-yard kickoff return in for a touchdown. Heading into the final quarter, the Cougs trailed behind the Skyhawks 16-14. Both teams heavily depended on running the ball rather than throwing it to earn yards. This strategy proved ineffective for the Cougs as they failed to close the gap and lost 16-14.
"I think we lost because of ourselves not because of the stress or pressure," Riley Danielson, junior, said. "To prepare for the next game, we will continue to condition, practice, and watch film."
Varsity football stands with a 2-2 record. Their next game is at home against the Centennial Bulldogs on Friday, Sep. 21 at 7 p.m.