By Kiley Brown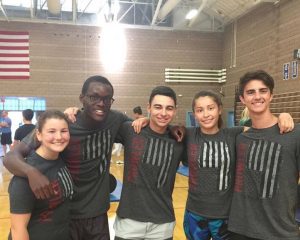 Five members of Prowler Crossfit club attended the annual CCSD High School Throwdown at West Prep Academy on Tuesday, Sept. 25. The event is a competition between a number of Crossfit clubs from schools across the valley. Alyssa Staley, sophomore, took second place in the beginning girls section and Andrew Soskin, sophomore, got second place in the beginning boys section.
"It felt great to accomplish it. I've been working really hard," Staley said. "It was amazing to place in my first competition. I heard my name get called, and honestly, I was surprised but excited."
The club did multiple types of workouts to increase their cardio and strength, practicing to see what they were doing right and where they had trouble in order to improve. The workout for the throwdown was 20 over the bar burpees, 400 meter run, 20 thrusters (using a 95 pound barbell), 400-meter run and 20 box jumps. This had to be completed before the 12 minutes ran out.
"I believe all of our hard work paid off pretty well," Michael Oliver, junior, said. "The training we did made the workout feel a lot better, physically and mentally."  
The athletes practiced the workout every day after school. Repeating the movements helped prepare them for the upcoming competition.
"The high school throwdowns began three years ago," Coach Swenson, crossfit coach, said. "They occur monthly at different high schools. We engage in a positive environment to exercise, mostly to do crossfit movements."
To join the Prowler Crossfit club, members must pay $25 to Coach Swenson. Practices are everyday after school in room 503 from 2:30 to 3:30.