By Izzie Thornley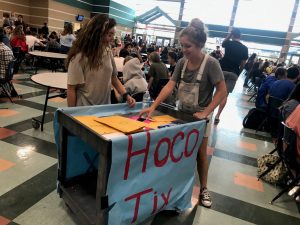 "Welcome to Fabulous Coronado" week is October 8-12, a week filled with spirit days and activities to get the student body involved. Students who dress up for the spirit days will receive different snacks and treats at lunch each day from Student Council members.
On Monday, students are encouraged to roll out of bed and come to school in their pajamas for "Waking up in Vegas" Day. Tuesday, students should wear a shirt from another state or country for "Vegas Worldwide" Day. On Wednesday, "Vegas Sports" Day, there will be a VGK watch party with free pizza from 4:30-8:30 p.m in the cafeteria. Students can wear gear supporting one of Vegas's many teams to both school and the party on Wednesday. Students can express their musical side by wearing their favorite band shirt on Thursday for "City of Music" Day. On "Coronado Strong" Friday, students are invited to wear any Cougar gear to show support for the homecoming game that night.  All week at lunch, student council will be selling homecoming shirts for $2 and homecoming bash tickets for $15.
"I'm most excited for "City of Music" Day because I have a vast collection of band shirts to pick from already," Emma Crouch, senior, said.
In addition to the lunch activities and spirit days, Cougars can participate in the Cougar 99 Scavenger Hunt. Participants who complete all 10 requirements for the scavenger hunt can DM pictures of themselves completing the tasks to @nadohocohunt18 on Instagram. Participating students enter into a raffle to win tickets to the Linq, Adventuredome, the Neon Museum, and more at the end of the week.
"I think that the scavenger hunt is a really great idea to get students who usually don't dress up or participate in activities more involved during spirit week," Brooke Bird, sophomore, said.
The homecoming assembly begins after sixth period on Friday. Kickoff for the varsity football game against Foothill High is at 7 p.m., but Cougars can enjoy food trucks and activities before the game at the tailgate starting at 5 p.m. During halftime, Student Council will announce the senior homecoming king and queen as the royalty ride on floats during the annual homecoming parade.
"The homecoming game is fun, and it brings everyone together for a shared celebration after we return back to Coronado," Camden Awong, sophomore, said.
The homecoming bash begins directly after the homecoming game in the gym, and runs until 11 p.m. Students who didn't order a pre-sale ticket during lunch can buy one at the door for $20. Pre-sale tickets are sold all week during lunch for $15. The bash includes dancing, food, and more entertainment.
"I went to the homecoming bash both my freshman and sophomore year, and I am going this year as well," Kenzy West, senior, said. "It is a great experience to make memories and to become closer to friends and peers."