By Samantha Catalano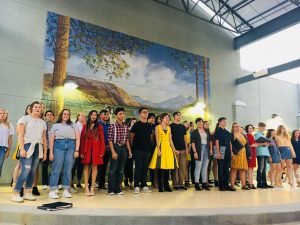 Choir students sang at the pasta night fundraiser on Friday, September 29 at Twitchell Elementary School to save three teachers being surplussed. Choir and Bob Miller's band came to support and entertain the community at the fundraiser, which local restaurant Ventano's donated food to. They sold raffles and donated baskets; all proceeds from the money will go directly towards their $180,000 goal.
"This is a super awesome thing to do," Sedona Whalen, senior, said. "All of us and Mr. Fleischer were more than happy to do it."
After the elementary school's student count came in low, the school did not have enough money to keep three teachers. The community is coming together to preserve their jobs.
"This is very hard for students and parents, but we are fundraising to help save the teachers," Jill Asparza, computer teacher, said.
The school's overall funding goal is set at $180,000, and in just over three weeks they have raised $50,000
"My friends and I made a bunch of cupcakes to sell to help raise money for the school," Mckenzie Hashimoto, a Twitchell fifth grader, said. "We made $262 for baking cupcakes and making bath bombs."
With the potential loss of three teachers, class sizes will increase by three to five students.
"My son is in second grade, and his class will be impacted; the room is full of desks already," Jennifer Brinkman, a Twitchell parent, said. "The part that upsets me the most is the teachers will have to leave the school they love. The school is like their home."
In addition to raising funding, having the Coronado choir and Bob Miller band perform brought the community together as a whole.
"This is making the community come together, classes are participating in fundraising, and it's nice to see everyone give back," another Twichell parent said.