By Madison Kitch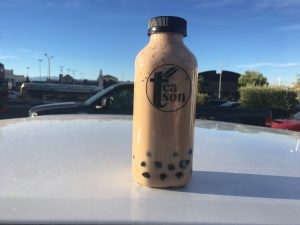 Boba tea, also known as bubble tea is a growing trend among teens. The popular milk-based drink featuring chewy tapioca beads, also known as "boba," has intrigued and delighted people for over 30 years. Adding milk to tea has been a tradition for a long time, but adding tapioca balls to milk tea originated in the 1980s when the owner of a teahouse in Taiwan, Lin Han-Chieh and his product manager, Lin Hsui Hiu added tapioca balls and sweetened pudding to the classic milk tea. Their ideas were a hit at the teahouse, and the rest is beverage history.
There are over forty locations in Las Vegas that serve variations of the popular beverage. Four of the most popular places are Boba King, Jozo Drink Café, Teason, and Noon's Boba Café, but are they worth the hype? The best boba place should have a creative aesthetic, a decent price, pleasant customer service, and of course, delicious boba.
Boba King  
Boba King was an overall pleasant and enjoyable experience. This boba shop is located at 591 College Dr. There were also tables to lounge at, so that is a definite plus. Boba King sounds great, except for the wait time. The wait time wasn't outrageously long, but it was longer than expected when there wasn't a rush.
The price wasn't bad, but $3.95 for a medium boba smoothie put this drink just above the average for a similar drink elsewhere. The average price for a 16 oz is $3.00, and a 20 oz drink is $3.50.
What sets Boba King apart from other bubble tea places is its endless customizable options that include milk teas, iced teas and smoothies. They also had not one, not two, but three types of boba: the classic tapioca pearl (classic dark-colored, usually honey or vanilla flavored textured ball), the common popping bead (the American version of boba, where bright colors and fruity flavors burst in your mouth), and a clear jelly like ball (a softer version of the classic tapioca pearl). This was thrilling as none of the other boba places offer the clear jelly bead.
The texture of the boba was perfectly smooth and chewy, and the matcha smoothie was delicious and smooth as a good smoothie should be. Overall, Boba King deserves the four and a half stars it got on Yelp. It's a great boba place if you're in that area– delicious and a fine place to quench your thirst.
Jozo Drink Café
Jozo Drink Café has that nice coffee house vibe most people love and boba. The café off of Stephanie and Paseo Verde Parkway has so many cozy cushions for sitting and had a warm aura and overall aesthetic that just can't be beat. Bean bags and the wood-paneled walls accented the cozy, serene setting. The windows were also darkened so the harsh outside lighting didn't filter through and ruin the feel of the café. Frankly, it would be a perfect place to study and enjoy a nice cup of boba.
Its menu also included ice cream, floats, coffee, and sandwiches. Immediately after ordering a peach milk tea with regular boba from their menu, the drink was ready quickly. The tea itself was $3.75, but after adding on boba and tax the total came to $4.50. The price wasn't outrageous, but it was above the average cost.
Honestly, the drink itself was disappointing. From the first sip, the peach flavor didn't have a distinctive flavor of anything, peach, or otherwise. It didn't taste bad; it just didn't taste like peach. The boba wasn't that great either. At first glance, it had the usual jelly-like boba texture on the outside, but the inside was hard as if it wasn't cooked properly. Maybe their ice cream sundaes are better?
Frankly, Jozo Drink Café is pleasing aesthetically but not to the tastebuds. It just didn't have that signature creamy tea or a smooth tapioca ball. Jozo Drink Café should have the four-star rating on Yelp, but they could be better. Right now, the establishment is simply okay.
Teason
Teason is a nice boba place with a refreshingly quirky atmosphere near Warm Springs Road and Annabelle Lane. Along with its simple and eccentric decor, the phrase "It's tea time!" was plastered everywhere, and that really made up the quirky aspect of it. The shop itself was a fairly decent size, but for some reason, there was sparse seating with only benches and a stand-up bar.
Teason also had an efficient, to-go experience that is hard to find at other cafés and coffeehouses. The feeling of a pleasant, comforting coffeehouse can be good, but this was a nice change.
The taste of their milk tea and boba quality outshined anything else. The Hokkaido (a caramel and brown sugar flavor) milk tea with regular boba was amazing. Its sweet taste of the Hokkaido mixed with the textured boba balls gave this drink an extra delicious flair. It was a rejuvenating drink to have at 4:00 in the afternoon, and the price was also only $2.50 with tax because on "$2 Thai Tea Thursdays," boba is only $2.
What really sets Teason apart from other boba places is the fact that the drinks come in sealed plastic bottles, emphasizing its quick pace even more. It was cute, but this isn't really practical for boba. Taking out the straw to seal the bottle means you either have to get another straw or choke on a tapioca bead from drinking it normally. That was the only thing worth complaining about from this place though.
According to Yelp, Teason has a four and a half star rating, but it deserves five. It's possible to see how one could be irked by little things, like the wait time (eight minutes), but overall, Teason needs to keep doing what they're doing.
Noon's Boba Café
Noon's Boba Café was a delightful, spacious boba café. It caters to Green Valley students after school, hence the Gator gear visible everywhere. Along with emoji pillows and brightly colored chairs and couches, the rest of the decor at Noon's Boba Café was surprising. In addition, Golden Knights and Gators merchandise, artwork, and inspirational quotes on the wall added a twist from other boba places.
The price was unfortunately not as nice as the decor. The total for a honeydew milk tea with regular boba came to about $5.00, which makes Noon's Boba Café the most expensive out of these four boba places.
There wasn't a huge wait time for the honeydew milk tea, but it could have been better. After ordering, the drink came out a few minutes later. The honeydew milk tea was on the helpful "Most Popular" drink list, but it shouldn't have been. It didn't taste like honeydew even though it didn't taste bad either. On the bright side, the boba texture was a delightfully chewy gelatin texture as boba should be. It seems like boba just isn't compatible with fruit milk teas. Noon's Boba Café has a four-star rating on Yelp, and it deserves that rating. The rating is fair, but it's also nothing special in the world of boba.
These were all decent boba places, but Teason was the best. From the simplicity of their portable plastic bottles to the punch of flavor they packed, it's the best boba place in town. So if you're looking for more than just a good boba place, Teason is worth checking out.