By Riley Cable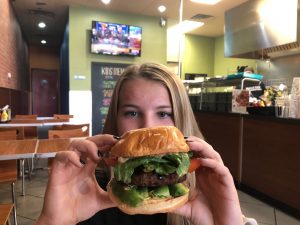 Burgers are the epitome of classic American food. At most restaurants you can expect to see at least some form of a burger on the menu. There's Californian, black and bleu, hibachi, bacon and double cheeseburgers, but normally only one veggie burger option is offered, if any. It's 2018, and being either vegan or vegetarian is more common than ever, but only some restaurants have begun adding food (burgers) to fit everyone's dietary restrictions or preferences. Deciding where to eat when you really want a burger is easier than ever. These veggie burgers may not meat your expectations, but they might meet them.
Fatburger
Fatburger has been known for their large burgers, different types of french fries and delicious milkshakes since 1952, but not many know about their Boca (a common meat substitute that can be found at grocery stores) burgers. Fatburger also offers the Impossible Burger that was given its name because of its incredible, almost impossible, similarity to meat. The burger, which is promoted as "meat made from plants" costs $10.00, and it's not worth the price. Although the toppings (lettuce, tomatoes and onions) were fresh and added to the overall experience of the burger, the patty itself was grainy, and an off-putting smell lingered. It had an initial resemblance to the taste of meat, but as you took more bites, the flavor became less enjoyable and more like cat food.
Smashburger
Smashburger is a fan-favorite fast food establishment, but what a lot of people may not know is that they have a vegetarian option. At Smashburger, you also have the option to create your own burger with the veggie option: any burger on the menu can be replaced with a black bean patty. This "Create Your Own" option starts at $5.99 with additional toppings that cost extra. The burger is completely customizable. The various sauce and cheese options helped disguise the blandness of the patty. However the patty-to-bun ratio was totally wrong. The edges of the patty stuck out on the sides which is something that can't be changed.
Freddy's
Freddy's is known for their steakburger, chicken sandwiches, patty melts, hot dogs and only one veggie burger. Their veggie burger was the most affordable at $5.19, and the patty itself was the most flavorful. There were different seasonings that created a spicy, southwestern flavor within the veggie burger which made it stand out from the other four. You could actually see the different vegetables (corn, beans and peppers) that it's made out of.
Munchbox
Munchbox has your typical fast food options, but they also serve many other healthier dishes. The veggie burger at Munchbox was one of the only completely vegan items on the menu, so it is a prime meal choice for both vegetarians and vegans. The Munchbox veggie burger alone was $8.99, which was a reasonable price, for it was more filling and larger than the others. Along with the usual burger toppings like lettuce and tomato, hummus and avocado accompanied the burger as well. Hummus added more protein which is often a concern for vegans and vegetarians, and it added an element that the other burgers did not have.
Vegenation
Vegans (people who don't eat any animal products) will have the best luck finding a veggie burger at a completely vegan restaurant where the food is entirely plant-based. Vegenation is a 100% vegan restaurant which means that normal condiments like mayonnaise and ranch are not made out of dairy (an animal by-product) but instead from nuts and soy. The burger came on a whole grain bun and was large in comparison to that of the other restaurants. This burger was the most unique because it came topped with a sour coleslaw that created an interesting flavor contrast from a classic burger. It is also the only place that includes the french fries in the price for $11.95. Because it came with the french fries, it was the most expensive, but the fries completed the meal and made it more filling.
Whether you are vegetarian, vegan, or you just enjoy trying something new, you are bound to find a burger to enjoy at one of these five restaurants. Lettuce know which burger beets them all.