By Valerie Perez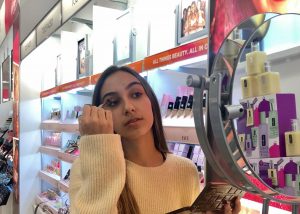 With awareness for the environment and its creatures on the rise, it seems more people are taking a deeper look into issues they used to simply ignore, like whether their makeup is cruelty free. Makeup brands making a transition into the cruelty free industry, are getting a boost in popularity from teens as cruelty-free companies are now chosen over any other.
For makeup companies to see which chemicals are safe for their customers, they must test them beforehand. Animals are often used to test the reactions to products. These products could be rubbed over the animal's eyes and skin or force fed to them. If the test goes negatively, the animals can suffer or ultimately die. As veganism and animal empathy grows among social media users, brands that use animal testing have lost masses of customers causing a rise in cruelty-free brand popularity.
Cruelty-free makeup brands are defined by the verification of their ingredients, formulations or products not being tested on animals. These companies use other solutions to test their products. Many brands have chosen to go cruelty free and are sold at local drug stores and beauty suppliers.
Glossier, known for creating a natural look, takes a new approach on the creation of their products. They're not selling in any markets that require animal testing and verify with their suppliers to make sure they are cruelty free. They don't sell in China either where they have to test on animals by law.
Bare Minerals focuses on making their products perfect for all types of skin, and their foundation, eyeshadows and blushes are all vegan. Their products do not contain any types of preservatives, oils, fragrances or damaging chemicals.
Anastasia, loved for their variety of brow products, is now vegan and cruelty free as is listed on most of their products. They were also approved by PETA, which is the largest animal rights organization in the world, adding them to their list of cruelty-free brands.
"Anastasia has been one of my favorite brands because of their eyebrow products," Elicia Gallegos, freshman, said. "Knowing that they're are cruelty free makes me love them even more."
Known for their eye liners and lipsticks, Kat Von D is vegan and cruelty free. "Although the FDA hasn't established a regulation for what it means to be 'vegan,' we define it as as a product that does not contain any animal products or by-products, and has not been tested on animals," Kat Von D says on her website. "Kat Von D Beauty never tests on animals—and never will."
Milk Makeup is all about applying quickly and simply. Most of their products are sold in tubes or stick form and can easily be applied by hand. The secret to their seamless look is the formula containing coconut waxes that soak into the skin easily. Since March of 2018, "There is no animal product or byproduct that doesn't have a safe natural or synthetic alternative," according to co-founder of Milk Makeup, Dianna Ruth.
Urban Decay is known for their "Naked" eyeshadow pallets, each pallet created for a different look. Urban Decay is also cruelty free, requiring suppliers to certify the raw materials used in the manufacture of their products are not tested on animals.
"I've been using Urban Decay a little less than two years, and I love their products especially their setting spray," Lilly Wenz, freshman, said.
Too Faced creates multi-shade themed pallets with a smell and exterior to go along with them. Their chocolate bar palette has shadows centered around the brown shade, all smelling like chocolate. "Too Faced Cosmetics has been a dedicated member of PETA's Beauty Without Bunnies cruelty-free program since 2001," and that will continue, according to PETA.
"Cruelty-free brands are very good," Tiara Brown, junior, said. "I think it's important that we don't hurt other living things for our own selfish benefit, such as looking prettier."