By Katie Breseman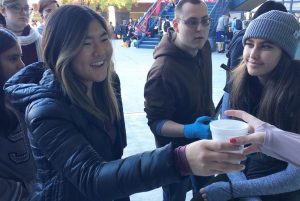 As the end of the semester grows near, students prepare for this year's Winter Wonderland spirit week and fine arts assembly.
"Spirit week is always fun for me and my friends," Ruby Barquin, freshman, said. "It's nice to be able to bring out your inner selves through dressing up each day."
Spirit week begins on Monday, Dec. 10 with Extreme Winter Wear Day. Students can bundle up in heavy winter clothes such as hats, scarves and thick coats.
Tuesday follows with Family Photo Day where everyone will wear ugly holiday sweaters. Cougs are encouraged to gather in the courtyard to take photos with their friends.
On Wednesday, the theme is Rockin' Around the Holidays. Students can show their class pride by wearing their class colors. Freshmen are assigned the color yellow. Sophomore classes will be wearing blue and juniors will wear green. Seniors are expected to wear red.
Next, Thursday is Island of Misfit Toys Day. Students will have the option of dressing up as Santa, an elf, an animal, a present or candy cane.
"The day I'm most excited about is Thursday," Christian Brown, senior, said. "The reason being, is we get to see the school dressed up all festival like, and I'm interested to see what kind of Santa Clauses will show up."
To conclude spirit week, Friday is Long Winter's Nap Day. Cougs will wear pajamas. Also on Friday is the Fine Arts Assembly, where Cougs will gather in the gym to watch choir, orchestra, and band perform seasonal pieces.
"Dress up days for spirit week are one of the many tasks that the spirit committee completes," Jessica Quartieri, senior, said. "They spent a lot of time deciding what themes to do for each day. I get so excited for spirit week because it is a fun and creative way to get the whole student body involved, and it really lifts my spirit especially during the stressful week before exams."