By Oliver Van Aken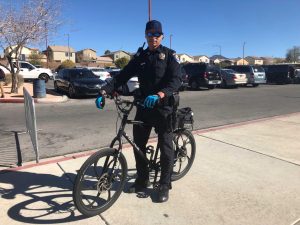 If students walk through the courtyard during the day they are likely to see Warren Rooks, a CCSD Police Officer that patrols Coronado High School. With tensions rising throughout the nation because of mass shootings taking place in schools, more students may feel worried about going to school on a daily basis. However, Warren Rooks, one of the two police officers on campus, serves as a symbol of safety find students.  
"I feel safer knowing there is someone qualified on campus if anything bad were to happen," freshman Maddie Kreitter said.
Rooks was born in Palo Alto, California in 1964 and is the adopted child of Warren and Eda Rooks. He grew up as an only child and moved to Albuquerque, New Mexico at age 13. After graduating high school, he enlisted in the U.S. Air Force and served for 22 years. He was relocated overseas to South Korea to shoot down potential North Korean air threats and Saudi Arabia during the First Gulf War.
"We would direct surface-to-air missiles or stinger missiles," Rooks said. "We would be positioned around the base on mountains, and North Korean planes would take about five minutes to get to the base. We were ordered to take them out."
After, Rooks became a recruiter for the Air Force in Oklahoma City and England, eventually becoming in charge of all Air Force recruiters in the state of Nevada as his last role in the military. Rooks has protected the Henderson community since 2008. He patrolled the city as part of the Henderson Police Department, but in 2010 he transferred to the Clark County School District, originally working at Biltmore High School in North Las Vegas. When Biltmore closed down, he transferred to Coronado and has remained here for the past five years.
"I like Coronado; it's been good," Rooks said. "I get along with all of the staff and students. They are really nice and cool. I see a lot of them at the store and other places, because I live about five minutes away.
Rooks now implements life lessons that he has learned throughout both his careers in day to day life. He developed a calming but directing voice from the 12 years he spent as an Air Force Recruiter and uses that skill to build special connections with the students. His favorite group of students was the class of 2018 because they were freshmen when Rooks started working here.
"I got to see the students go from freshmen to seniors," Rooks said. "I saw all the changes they experienced like growth spurts."
Rooks is not only well known for his connections with students, but also for his infamous bicycle. He is often seen patrolling the parking lot after school while riding on his black police bike. While monitoring the parking lot, he often refrains from always giving students tickets. Rooks understands that students are just learning how to drive, and he doesn't want to fine them or raise their insurance payments over a simple mistake.
"I treat people like I like to be treated, especially as a police officer," Rooks said. "When kids mess up in the parking lot, I don't give them a ticket. I'm not out to get you guys; I was a teenager once, too."