By Emerald Green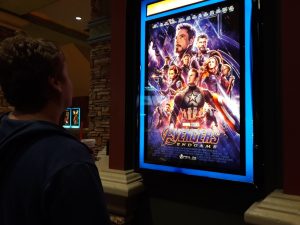 Fair warning: this is your SPOILER ALERT.
After more than 10 years, Marvel released the Russo Brothers' long-awaited "Avengers: Endgame" to a record breaking 4,662 theaters on Thursday, April 25. Fans waited in long lines to be some of the first to see the ground-breaking film that concludes the 22 previous stories of the Marvel Cinematic Universe (MCU).
According to NPR, "Endgame" was the first film to hit $300 million opening weekend, making it the biggest in history. Opening night alone the film made $60 million, three million more than the previous record holder, "Star Wars: The Force Awakens" (2015). On Friday, it had the biggest single day for any film ever with $156.7 million and the biggest Saturday and Sunday ever. "Endgame" even beat the last Avengers film, "Avengers: Infinity War" (2018) by more than $100 million. It was the biggest international opening weekend with record-breaking weekends in China and 43 other places.
When fans all over the world last left (some) of their favorite heroes, the future was bleak and uncertain as half of the universe vanished with Thanos' snap of the Infinity gauntlet, the Titan's attempt to combat overpopulation and a lack of resources. Now, the original six Avengers (Robert Downey, Jr. as Tony Stark/Iron Man, Chris Evans as Steve Rogers/Captain America, Mark Ruffalo as Bruce Banner/the Hulk, Scarlett Johansson as Natasha Romanoff/Black Widow, and Chris Hemsworth as Thor) plus Rhodey/War Machine (Don Cheadle), Scott Lang/Ant-Man (Paul Rudd), and Nebula (Karen Gillan) are trying to bring them back because another second without their friends and family would be too much. Plus, Thor is getting fatter by the second, a not-so-subtle reference to "The Big Lebowski" (1998).
With an exciting but complicated premise such as this, it would have been easy to mess up, but, instead, it exceeded already high expectations. The latest installment of the MCU earned a more than impressive 96% critics rating on Rotten Tomatoes, a higher score than the last time the Avengers assembled in "Infinity War" at 85% and the latest Marvel movie of March's "Captain Marvel" at 78%. For a film with a running time of three hours and two minutes, it did not feel like it. Intense pressure on the characters to bring back their loved ones and their depressing sullen dispositions drove the film's momentum to escape from a dark place. It was not as funny as other Marvel movies because there was too much that had to be done; there was no time for laughter even though there were some very iconic scenes of quotable comic relief. It was everything a superhero should be and more: incredible complex action sequences, flawless graphics, oddly relatable themes, and moments between characters that touch the heart in ways that didn't seem possible.
Surprise character cameos from the Ancient One (Tilda Swinton) to Harley (Ty Simpkins) from "Iron Man 3" (2013) to Stan Lee's final appearance in the MCU only further cemented the idea that every character in this more than a decade-old journey was pivotal. Audiences also had the opportunity to witness new layers to very familiar characters, especially when it came to Hulk and Captain America. To put it simply, these characters possessed the capabilities of control that fans always knew they had.
The amount of parallels in "Endgame" balanced the damage done in "Infinity War," and it was almost worth the pain of losing everyone the first time. However, it wouldn't be a Marvel movie with at least one death, and this time it was major. (I warned you: SPOILER ALERT) While fans mourn the loss of their favorite genius, billionaire, playboy, philanthropist, they should also find comfort in the fact that he's not hurting anymore. Tony Stark had daily battles with anxiety, PTSD (Post-traumatic Stress Disorder), and more guilt than any one person should have. He is at rest knowing that "We won, Mr. Stark" while his legacy within the MCU and outside of it will live on forever. Robert Downey, Jr. was Iron Man, is Iron Man, and will always be Iron Man. Love you 3000.
Part of the journey is the end. Even with the death of the man that started it all with "Iron Man" (2008), this film was everything that fans deserved from everyone's faves rising from the ashes to Captain America's (the First Avenger) happy ending that was long overdue. There were no loose ends, only hints of bold beginnings of the next phase (four) of the MCU, starting with Tony's "kid" in "Spider-Man: Far From Home" in July.