By Lorin Enns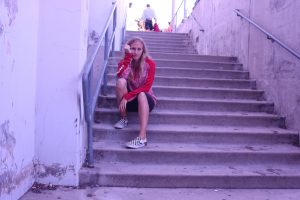 Gabby Wood has a lot to be proud about, but her piece de resistance is the years of swimming for Coronado under her belt. As a prominent member of the swim team, she's well-loved amongst her peers, coaches and everyone around her. Bouncing around between Reno, Denver, Park City and eventually Las Vegas, Gabby has enjoyed growing her roots in a place that she now calls home— but not for much longer. Wood will be attending Northern Arizona University in the fall, bringing her swimming career to a close and opening a new life chapter, making it bittersweet.
"This was one of my top choices after I decided I wasn't going to swim in college," Wood said. "The city is beautiful, and it's close enough to home where I can visit my mom, but it's still far enough away where I can learn hard life experiences on my own."
With more than 11 years dedicated to club swim and all four years on the Coronado team, swim has always been a major part of Wood's life. With hundreds of practices, hours in the water and too many swim meets to count, the constant need to improve before the next competition has driven her to reach her goals. With any sport come mistakes and hardships that, quite literally, train oneself to sink or swim. Gabby has learned to overcome these trials and uses them as a way to usher in a new generation of swimmers after she graduates.
"Come to practice, act like you want it and don't fall into the drama of high school" is advice Wood has for all incoming members of the team. "The season is so short, and it's really upsetting to watch people make the same mistakes over and over again. Take dating someone [for example], if you break up before the season or during the season, don't let that breakup ruin your memories! It's only high school, and swimming is what's important."
Wood finds that while participating in swim has been an immensely important part of her life, the connections and friendships built during her experience will last far longer than the four short years in high school. Learning to go outside a designated comfort zone is a worthy struggle, and Gabby credits her friends on her team as a helping hand in coming out of her shell.
"Joining swim gave me an automatic family," she said. "Throughout the years, I hung out with new people that turned out to be some of my best friends, and it's always hard when the seniors leave. I would give them all the credit for bringing me out of my shell, however this year I had hoped to bring other people out of their shells just like the people before me did. High school has taught me so many life lessons that I wouldn't give up for anything."