Cross Country
By Ellis Sondrup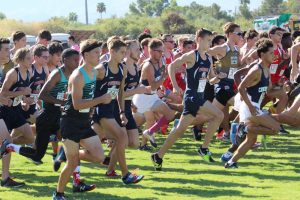 Cross Country competed in the Larry Burgess Invitational held at Sunset Park on Saturday, Sept. 7, running against teams from across the valley and Utah. The varsity men's team took seventh while varsity women won first. Seniors Porshe Eismann and Claire Rawlins earned first and second for varsity girls, both girls coming in under 19 minutes to help secure the win. Top performances in the mens included senior Brendan Graves, finishing in 22nd place with a time of 16:22.8. 
"It was a fast race with good competition," Rawlins said. "Running hurts a lot less when your team is slaying the game. I'm proud of how well our girls did today. It's crazy hard but a ton of fun." 
Cross country's next meet is at Sonata Park at 4:30 p.m. on Tuesday, Sept. 17.
Women's Varsity Soccer
By Riley Cable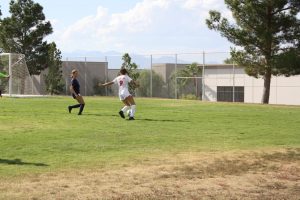 Women's varsity soccer fell to the Centennial Bulldogs 2-0 at home on Friday, Sept. 6. Despite a hard fight, Centennial's solid defense kept the Cougars from scoring. 
With the Bulldogs' quick goal in the first half, the Cougs struggled to tie up the game. Going into the second half, the girls continued to bring the ball up field but never secured a goal. This was the team's first loss of the season, but they are still 5-1. 
"We are definitely going to learn and grow from this loss," junior Stella Poste said. "We still have a lot of things to work on as a team. We were missing 11 players, so a big part of the team that we've been building with was gone, which was a setback. We want to win state, so we're going to continue to work hard to accomplish that." 
The women's next game will be at home on Wednesday, Sept. 11 at 3:00 p.m. against Sierra Vista. 
Men's Varsity Soccer 
By Riley Cable
Men's varsity soccer defeated Arbor View 4-1 on Tuesday, Sept. 3. During their home game, junior Javier Vasquez-Estrada scored three goals and senior Lincoln Aquino scored one goal. Sophomore Collin Anderson and junior Taye Adams both had an assist. 
On Thursday, the men's tied 0-0 against Legacy at home on Thursday, Sept. 5. 
"We were glad to secure the win over Arbor View, but we were upset that we couldn't get a second win of the week," Adams said. "We plan on working harder this week, so we can do better for the rest of the season." 
The next men's game will be at Sierra Vista on Wednesday, Sept. 11 at 3:00 p.m. 
Women's Varsity Volleyball
By Isaac Anwar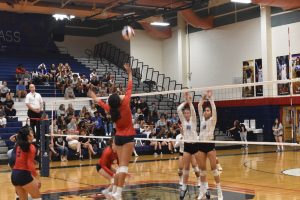 The women's varsity volleyball team lost to the Palo Verde Panthers 1-3 in an away game on Tuesday, Sept. 3. The scores for the sets were, 22-25, 25-22, 20-25 and 16-25. 
Sophomore Ashli Dean led the team with three kills and nine digs. Junior Morenike Ajayi kept the team going with 25 digs. The Cougars kept a close lead throughout every set but were unsuccessful in securing the win.
"Even though we ended up losing we were able to find out what we needed to work on as a team,"  junior Morenkeji Ajayi said. "Next time we will be more united and ready for the next game."
The Cougs lost to the Moanalua Menehunes 1-3 in their home game of Thursday, Sept. 5. The scores for the sets were, 19-25, 25-21, 23-25, 21-25.
The Cougars next game will be away against Durango on Wednesday, Sept. 11.
Men's and Women's Tennis
By Bryce Becker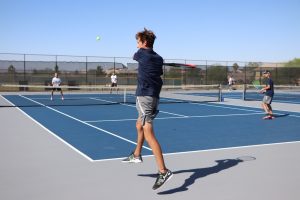 Men's varsity tennis swept the Sierra Vista Mountain Lions 18-0 in an away match on Friday, Sept. 6. Women's tennis also defeated Sierra Vista 13-5. Senior Sebastian Frace won all his single matches for the men's victory.

"It's pretty exciting having a solid start to the season, and it gave all of the girls a lot of confidence," junior Ava Nhaisi said. "My main goals this year are to keep a strong streak from the past two seasons going, but also I want to make sure that everyone has fun playing the sport we all share a love for."
Both teams are 3-0 in the season, and the next match is tomorrow at home versus Foothill at 3:00 p.m.
Varsity Football
By Ryan Kelleher
The varsity football team crushed the Sunrise Mountain Miners 57-0 on the road on Friday, Sept. 6. Senior quarterback Keegan Tharp threw 68 yards. Sophomore Chris Avila carried for a total of 110 yards and scored two touchdowns. On defense, senior Wilson Scow contributed with one tackle and three assists. 
The Cougs now sit with an overall record of 2-1, and their next game is at home against  Pahrump Valley on Friday, Sept. 20.