Men's and Women's Tennis
By Ryan Kelleher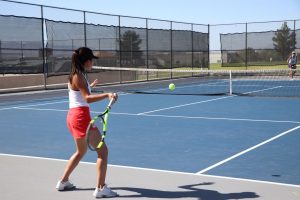 The men's varsity tennis team fell to the Clark Chargers 8-10 at home in a conference match on Monday, Sept. 9. Senior Sebastian Frace went 2-1 in his single matches for the Cougs. Women's varsity tennis defeated Clark 11-7. 
"Well our loss to Clark was our closest we have been to beating them in the last couple of years," Frace said. "We can use our loss to fuel us for the rest of the season and practice hard. Hopefully next time we can get the results we want."
Men's varsity tennis came back to defeat the Foothill Falcons 13-5 in another home conference match on Tuesday, Sept. 10. The men's team finished the week winning 14-4 against the Durango Trailblazers on Thursday, Sept. 12. Upholding their undefeated record, the women's team defeated Foothill 14-4 and Durango 13-5. 
Both tennis teams play against Southeast Career Tech at home on Wednesday, Spet. 18. 
Men's Soccer
By Oliver Van Aken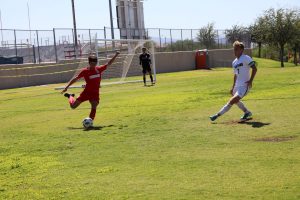 Men's varsity soccer defeated Sierra Vista 4-0 in an away game on Wednesday, Sept. 11. Junior Diego Ayala made an assist while junior Maor Kohen and senior Lincoln Aquino had an assist and goal. Sophomore Collin Anderson led the Cougs to victory with three goals.
"I think I made very good passes and pressured the defense well enough to lead which allowed more scoring chances," sophomore DJ Kiernan said.
Men's soccer plays against SECTA at home on Tuesday, Sept. 17. The next game is an away game against Basic on Thursday, Sept. 19.
Women's Volleyball
By Isabella Burnette
The women's varsity volleyball team won in three sets, 19-25, 17-25 and 15-25 against Arbor View at home on Monday, Sept. 9. Senior Dalas Balanay-Flores led with 36 assists and six digs. Junior Morenike Ajayi helped out with 11 digs. Junior Ashlyn Gomez from Coronado earned player of the game.
In the second game of the week, the Cougars lost 2-3 in an away game against Durango on Wednesday, Sept. 11. The scores of the sets were 25-22, 16-25, 22-25, 25-18 and 12-15. Balanay-Flores led the Cougars with 30 assists and 10 digs. After clutching the win in the first and fourth set, the cougars lost by three points in the tie breaking set.
"Even though we lost, I think it we can learn from this game." Sophomore Ashli Dean said. "We still have plenty of time left in the season to improve and win."
The Cougars next game will be at home versus SECTA on Wednesday, Sept. 18.