By Maya Fankulewski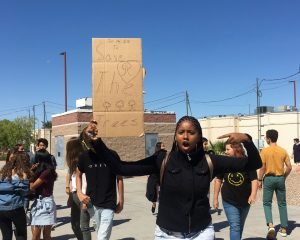 The Climate Change Walkout that occured in 139 countries on Friday, Sept. 20, made history for environmental activist Greta Thunburg, a 15 year old from Sweden who is responsible for the movement. An estimate of 4 million people took part in the walkout in high schools worldwide.
"Global Warming has been a problem stressed to us for most of our lives, so when an opportunity came up to help spread awareness on climate change, I joined in," sophomore Wells Lee said. "I believe it's a big problem, and I hope to see some changes to current global warming laws." 
The Climate Change Walkout happened at Coronado during fourth period on friday. Students who participated in the movement rallied throughout the sides of the school and the football field. While several held posters, others chanted and marched. Another climate change strike took place in Las Vegas later that day. Multiple Coronado students participated.
"I'm a little disappointed that only a few people participated in the walkout," science teacher Mrs. Houseberg said. "I wish more students and teachers knew about it. Everyone should know about climate change because we are all affected by it."
While the World Wide Climate Change Walkout made history for Thunburg, it also spread awareness for global warming. Students intended to protest until the government makes a change. 
"What motivated me to join the strike was to spread awareness about Climate change, since there is not much I can do to help the conditions that our globe is facing." sophomore Karen Meng said. "The least I could do is show awareness that Climate Change is a big problem."