Varsity Football 
By Ellis Sondrup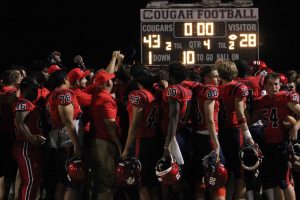 Varsity football came out on top against the Pahrump Valley Trojans, winning 43-28 on Friday, Sept. 20 at home.
"Our guys are really starting to understand how we're trying to play football this year," said Head Coach Belitnikauff. "We're trying to play aggressive, we're trying to play smart. We've got a lot of different things going on schematics wise and strategy wise, and we're getting the ball in a lot of different people's hands." 
The Cougars started slow, allowing a touchdown and a two point conversion, finishing the first quarter down 7-8. The second quarter brought a shift for the Cougs, outscoring the Trojans allowed the Cougars to lead 21-14 at half. 
The Cougars took a commanding lead in the third quarter, out scoring the trojans 15-0, and finally shutting out the game in the fourth. 
Varsity's next game is on Friday, Sept. 27 at Legacy.  
Men's varsity soccer
By Bryce Becker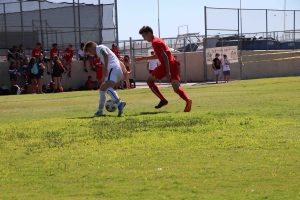 Men's varsity soccer tied 0-0 against Tech at home on Tuesday, Sept. 17. Though the Cougars had many scoring opportunities, Tech held off the Cougs from scoring.
"We need to work on building out of our defense and creating more scoring opportunities," junior Ryan Wilkinson said. "We also need to take more shots on net, which will lead to more goals."
In the second game of the week, the Cougars defeated Basic 10-0 in an away game on Thursday, Sept. 19. Senior Lincoln Aquino led the Cougars to victory with three goals and two assists while junior Taye Adams scored three goals. Goalie Josue Ruiz helped the Cougars shut out the Basic Wolves with three saves.
The Cougars next home game is against Spring Valley on Wednesday, Sept. 25 at 3:00 p.m.
Women's varsity soccer
By Isabella Burnette
The women's varsity soccer team beat SECTA 8-0 in an away game on Tuesday Sep. 17. The game ended early due to the mercy rule. Chrysta Vasquez lead the team with three goals and one assist while Alexis Hale had two assists and one goal.
In the second game of the week, the Cougars won 8-0 against Basic on Thursday Sep. 19 at home. This game also ended early because of the mercy rule. 
"These games are fun to play and are good practice for the team to try new things," Vasquez said. "I get to push forward more and it gives me chances like these to score hat tricks."
The Cougar's next game will be a home game on Monday, Sept. 23 against Spring Valley.
Women's varsity volleyball
By Isaac Anwar
The women's varsity volleyball team defeated the Silverado Skyhawks 3-0 in a home game Wednesday, Sept. 18. The scores for the three sets were, 25-13, 25-16, 25-14.
Senior Sara Arroyo led with 11 kills and two digs while junior Morenike Ajayi led defensively with 11 digs. The Cougs offense was able to overpower the Skyhawks leading to the flawless victory. 
"This game was one of our best performances as a team this season," Junior Katie Sullivan said. "We were able to keep our head in the game, and stay motivated throughout."
The Cougars next game will be an away game against the Sierra Vista Mountain Lions on Thursday, September 26.
Cross Country
By Ellis Sondrup
Varsity cross country traveled to Norco, California on Saturday, Sept. 21 to run in the Woodbridge Classic, competing against 21 teams in their division. The men's team finished sixth overall, led by seniors Brandan Graves and Tom Daguhtery each running a 15:47, coming in 16th and 18th.
The women topped their division with a decisive lead, 36 points under the second team. Senior Porshe Eismann came in first with a time of 17:34.6, and fellow senior Claire Rawlins following in third with a time of 17:40.9
"Woodbridge was a lot of fun," Rawlins said. "Races like those are very nerve wracking until you start running them, and then you just feel good. It was a really fast race and each of our girls killed it. It's always an awesome feeling to cross the finish line and see the rest of your teammates come in just behind you, and know your team did really well."
The Cougars race again at Sonata park on Tuesday, Sept. 24.