By Valerie Perez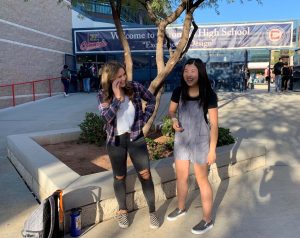 The Clark County School District, welcomed 67 senior semi-finalists into the National Merit Scholarship Program on Wednesday, Sept 11. A total of 16 Coronado students were accepted and all are eligible for scholarships worth more than $31 million from The National Merit Scholarship Corporation.   
"When I found that I was a National Merit semifinalist, I was really happy and felt more optimistic about my college plans," senior Dylan Phung said. "Hopefully, I will end up as a finalist and earn the scholarship, which I would use to particularly palliate the nowadays daunting figure of college tuition."
Nationwide, 1.5 million juniors from 21,000 schools took the 2018 Preliminary SAT/National Merit Scholarship Qualifying Test for possible acceptance into the program. The highest-scoring participants in each state can be qualified as a semi-finalist, representing less than one percent of the qualified seniors in the U.S. 
"Leading up to the exam, I always asked questions from my teachers when there was a difficult concept, and I made sure to study extra on that topic," senior Lilliana Posocco said. "If my hard work ends up paying off, I can hopefully use the scholarship to get into my dream school NAU."
To become a finalist, semi-finalists need to have an outstanding academic record throughout high school, be recommended by the school administration, compose a detailed essay describing any honors classes, awards given, participation, activities, and SAT/ACT scores that prove their performance on the qualifying test. 
"I sacrificed many summer days by taking SAT practice tests and reviewing them," senior Rachael Wei said. "I feel very accomplished becoming a semifinalist, but I know I should continue to push my academic limits and never stop learning for the future."