Men's Varsity Soccer
By Wyatt Boyle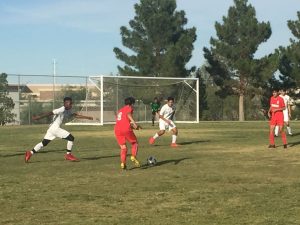 Men's varsity soccer defeated the Foothill Falcons 3-2 in a home game Wednesday, Sept. 25. With the offense only scoring in the first half, the Cougars defense had to hold onto their lead through the second half of the game.
"I'm working on playing forward and combining with our other forwards," junior Taye Adams said. "We've been working on creating more scoring opportunities through more passing and communication."
The Cougars play again in an away game versus Liberty on Wednesday, Oct. 2.
Men's and Women's Tennis
By Ryan Kelleher
The women's varsity tennis team crushed the Basic Wolves 16-2 on the road on Tuesday, Sept. 24. The men's team also defeated the Wolves 14-4. Later in the week, the women's team defeated the Spring Valley Grizzlies 16-2 in an away match on Thursday, Sept. 26 while the men's team won 17-1. 
"We are having a great season so far," senior Jonah Blake said. "It's important we take all our games seriously even those we easily win. The easy games still help us grow, allow us to try new things and practice skills we already know." 
On the road, the women's varsity team defeated the Green Valley Gators 15-3 on Saturday, Sept. 28. The men's team kept the winning streak alive with a 14-4 victory over the Gators. Men's varsity tennis currently has a record of 10-1 while the women's team is undefeated 11-0. Their next match is at home against Desert Oasis on Wednesday, Oct. 2. 
Women's Varsity Volleyball
By Isaac Anwar
The women's varsity volleyball team defeated the Sierra Vista Mountain Lions 3-1 in an away game Thursday, Sept. 26. The scores of the four sets were, 25-12, 25-13, 24-26, 25-8. Freshman Nanea Merryman led the team with 12 kills and five digs while junior Morenike Ajayi helped out with 14 digs. 
"This game told us to always play our hardest during every game and never get too comfortable," Junior Morenikeji Ajayi said. "
The Cougars next game is a home game against the Clark High School Chargers on Thursday, Oct. 3.
Varsity Football
By Lorin Alukonis
Varsity football lost to Legacy High School 42-21 in an away game on Friday, Sept. 27. The Cougars held the lead in the first half of the game, but Legacy came back and won. Senior RJ Edwards led the Cougs with ten tackles. 
"We came into the game with great confidence after winning three giant games," Sophomore Chris Avila said. "The first half went really well; we had a couple of mistakes making us end the half tied at 21-21. We came out in the second half too cocky and got our butts kicked for the rest of the game."
Varsity football's next game is at home against Green Valley on Friday, Oct. 4.