By Wyatt Boyle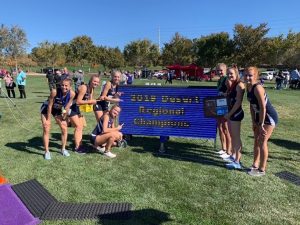 Women's varsity cross country won the Class 4A Regional Meet at Veteran's Memorial Park on Saturday, Nov. 2. The women's team placed first with 26 points and defeated 12 other high schools including rivals Silverado and Green Valley. 
"It's a hard course and my legs felt completely dead," senior Claire Rawlins said. "It's a lot of fun to see your team run great."
Senior Porsche Eismann took first place of 80 runners with a time of 19.39 while Rawlins secured second place. All seven Coronado runners finished before any other school had two runners complete the course. Sophomore Kelly Denninghoff placed fifth overall while senior Ellen Wise claimed eighth. To help secure the win, juniors Erin Shannon, Kylee Barid and Olivia Ship earned 10th, 11th and 12th place.
"We won easily, so I was happy with it," Coach Tondryk said. "I think we [the boys] ran a good season. If we didn't have some of our starters injured, we would have made it easily."
The men's varsity cross country placed fourth overall in the Class 4A Regional Meet. The team will not advance to the State Meet in Reno, but sophomore Aiden Manning and senior Brendan Graves received individual invitations to state.
"Cross country is my life and it's all I do, so it is rewarding," Graves said. "It pays off when I get invited to state."