By Ellis Sondrup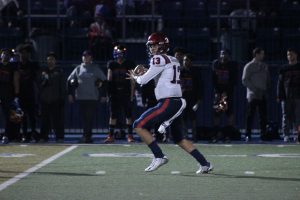 Coronado fell against the Bishop Gorman Gaels 7-57 on Friday, Nov. 8 in the first playoff appearance for the Cougars since 2015. Coronado pushed to the playoffs with a 5-5 overall record, sliding into the last seed to play the first seed Gaels, stumbling and ending their season.
Coronado seemed lost, dropping the first quarter 38-0. Coronado's defense, which has proved to be the defining factor in many of the Cougars' wins this season, struggled against the force of the Gorman offense, the Gaels blew past the Cougar line. However, the Cougs held Gorman scoreless in the second quarter, but scoring no points of their own, finishing the half down 38-0. 
"Our team was definitely excited that we made the playoffs for the first time since 2015 so the attitude was way different," junior Brady Galbraith said. "Knowing that we were in the playoffs forced us to play our hearts out, there were just too many mistakes. Y'all can look forward to the 8-0 freshman team playing altogether as seniors for the first time in a while, it'll be a great season."
The third quarter followed in a like fashion, the Cougars trying to find their rhythm, and possibly the field. Still scoreless, Coronado seemed to pick up the pace, pushing with seven minutes left to go in the third. However,  Gorman sack led to yet another touchdown, finishing the third 45-0. 
"There's a reason Gorman is ranked in the top 25 in the nation, and unfortunately, we found that out first hand," head coach Biletnikoff said. "They pretty much dominated us in every aspect of the game. Despite the outcome of the game, there were some bright spots for us. Making the playoffs for the first time in a few years was a goal that we put in place my first day in the program, and our players accomplished that goal. We have a good amount of players returning next year, and the playoff experience they got this year is immeasurable." 
As the fourth quarter ensued, the Gaels were in possession of the game, scoring their final touchdown in the fourth quarter with seven minutes to go. The Cougars finally found the way to the field, scoring their first and only points of the game with under a minute to go in the fourth quarter. 
This loss pushes Coronado's overall record to 5-6. Despite another tough season overall, the season was a success. With Head Coach Biletnikoff the Cougars were able to advance to the playoffs for the first time since 2015, showing improvement and a bright future for the team in the coming years.  
"I truly believe how we finished the last two games this year set the tone for years to come for our program," Coach Biletnikoff said. "Unlike years past, there was no quiet in our team despite the score on the scoreboard. Our players scratched, clawed and fought until the final whistle of both of those games. A coach couldn't be more proud than to see his team fight until the very end. Our goal for next year is simple, win a playoff game!"