By Oliver Van Aken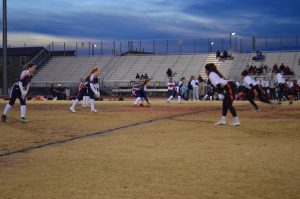 Varsity flag football opened up the season beating Bishop Gorman 7-6 in an away game on Tuesday, Dec. 3. Later in the week, the Cougars defeated Desert Oasis 12-6 on Thursday, Dec. 5 and shut out Eldorado 62-0 on Friday, Dec. 6.
"These games have been a little challenging. It is good to have a couple wins this far, but in both games we all could've played a little better," sophomore Ashtyn Almeido said. "We are still learning how to get better and working hard every day. We have a long way to go and we are all very excited to keep this season going!"
After winning the state championship two years ago and an undefeated record last year the team created a reputation for their determination and competitiveness on the field. About half of the varsity team graduated last year, and in turn there have been significant changes to the roster.
"We are off to a pretty slow start to this year," Coach Anderson said. "I'm not sure if there is a good excuse but we are ready to get going."
Varsity's upcoming games this week are all at home against Palo Verde on Monday, Dec. 9, Cimarron, on Wednesday, Dec. 11, and Legacy, on Friday, Dec. 13. However, the flag football season will extend until the last game on Feb. 6.
"I think this year we're going to approach the season with a lot of hard work," junior Rachel Burt said. "There are a lot of new girls playing together this year, so I really think this season will be all about building confidence and skill each game, and practice so we can be prepared to give everything we have towards a championship."