by Madison Kitch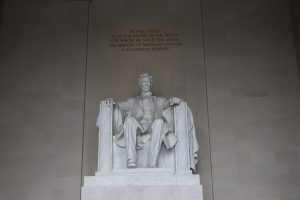 From Wed., April 6, to Mon., April 11, students of Coronado's AP Government class were in Washington, D.C. (District of Columbia) on an educational, 5-day field trip. The trip came to a total of $1300 per student, but the students participated in many activities, most notably meeting Nevada's senators and district representative. 
It felt like such an honor to meet our senators and representatives," senior Assiatou Hann said. "I was really excited to meet them and hear them talk about what they do. It almost didn't feel real. I would love to meet them again sometime."
The students met Catherine Cortez Masto and Jacky Rosen, both of Nevada's senators. They also met Susie Lee, who represents Nevada's third congressional district (which includes Coronado/Henderson) in the House of Representatives. Students were able to ask representatives questions about their job as well as take pictures. 
Students who attended the trip also saw the historical side of D.C., including the Lincoln Memorial, the Washington Monument, the Jefferson Memorial, and the Vietnam Wall. The Washington Monument is 50 stories high, and the group visited it on Friday; students at the top of the monument were able to see the confirmation of the most recent Supreme Court Justice, Justice Ketanji Brown Jackson.
"Seeing the confirmation was really cool," senior Emily King said. "Obviously I wish I could've heard what the officials were saying, but it was interesting seeing everyone gathered in front of the White House."
However, the trip was not all historical. Students attended the Fri., April 8 Washington Nationals vs. New York Mets baseball game. The game was rained out by the eighth inning, but the score was called at 7-3, with the Mets taking the win. At the game, Mets player Francisco Lindor took a fastball to the face from Nationals sidearmer Steve Cishek. This caused controversy in the game, and students saw it all.
"It was really cool to watch the game live and see the Mets play against the Nationals," senior Aidan Maynard said. "It was fun to see a Major League Baseball team since we don't have one in Vegas."
Students also saw several museums, including the United States Holocaust Memorial Museum, the Hirschorn Muesum and Sculpture Garden, the National Museum of Natural History, the National Museuem of American History, the National Museum of African American History and Culture and the National Portrait Gallery. All but the Holocaust Museum are Smithsonians, meaning they are free to the public.
"I loved the Hirschorn Museum," King said. "I loved seeing the modern art. The National Art museum was a close second."
Th Coronado Washington D.C. trip is a trip available for seniors taking AP Government. Planning for the trip usually begins in the first quarter of the school year, and the trip itself takes place in the spring.
"Overall, I loved the trip," Hann said. "It was so much fun. Everyday was very busy and we were always doing something. I wish we could have stayed for one more day."