By James Williams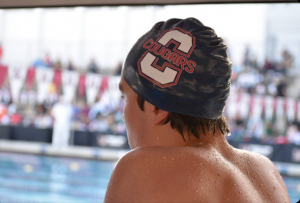 Some students coast by in high school, but senior Noah Gooding has swam to the top throughout his school years. Noah is one of three men swim team captains, and nothing has stopped him from getting better and better at the sport. He has won numerous awards while being on the swim team, but the biggest award that he has achieved was the Coronado scholar-athlete of the year. Not only does he love the sport of swimming, he appreciates the friends that he has made over the years in swim and uses his time with his swim team to train and have a good time. He also achieves success in education where he is in four AP classes (Physics 1, US Government, Calculus AB, and Literature/Composition). Although the classes he takes are very challenging, he assures that he puts as much effort into school as he does for swim.
"I've put my blood, sweat, and tears to become the athlete that I want to be," Gooding said. "A lot of my time this year has just been focused on trying to improve for college, which includes waking up at 5 AM to swim with teammates or going to the gym." 
Noah has been doing swim for a while now and it really made a huge impact. Being a captain on the team, Gooding has many things that he is responsible for. The little things matter, too such as getting the team snacks or getting to school early to pass out equipment. While being a captain, Gooding wouldn't have had the same success if it weren't for his team. Swimming is a team sport, and Gooding is lucky enough to have earned the converted captainship for the swim team.
"It's a group effort, our team wouldn't be able to have the success it does without everyone involved," Gooding said. "I really do appreciate everyone, including the five other captains, my coaches and the rest of the team."
When Gooding isn't occupied training for swim, he is busy as a snowboarder. Gooding is relatively new to this hobby, but he loves going out into the mountains. Although Gooding hasn't been snowboarding for a while, he goes out to every opportunity he gets and wants to be better at it every time. Despite giving it his best, he suffered a broken wrist in a recent visit, and he had to swim through the injury.
"Noah is our captain, and it does show why he deserves to be a captain," senior Ethan Chir said. "He is really is a great person and one of the hardest working people on our team."
No matter whether Noah is at his 100% or dealing with an injury, he puts in the effort to get the job done. High school has brought Noah some of his closest friends through the swim team. He hangs out with his teammates almost every day before school and at lunch. Mr. Stump (coach) has been one of his biggest influences to keep pushing and working hard. They appreciate one another and Noah doesn't know what his success would be without Mr. Stump.
"I am super grateful for the high school experience I have," Gooding said. "If it weren't for my coaches, teammates, and friends, I would not be in the position that I'm in right now."