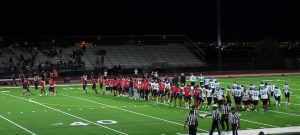 Varsity Football 
by Aubree Gearhart
On Friday,Sep 16, 2022 the Cougars' Varsity Football team took on the Silverado Skyhawks. The Cougars took a tough loss this game with the final score being 0-43. 
"We need to be more focused at practice," said senior Isaiah Bottley (#3). "We need to give it 100% at everything we do." 
 Although this was a challenging home game for the Cougars, there were some festivities that occurred during this game and at half-time. On the sidelines, the mini Cougarettes joined the Cougarettes to hype up the student section dressed in cowboy attire. During half-time teams such as women's swimming, women's soccer, and golf were brought onto the field to be recognized for being named 2022 state champion teams. 
Lineman, Silas Sagote (#1) made several tackles during this game, as did Amosa Mayberry (#7). Quarterback Dante Salour (#12) had quick decision-making during this game. 
"I think that the game could have gone better if we executed on both sides of the ball." said senior Silas Sagote (#1) "I feel that as a team we have a lot of potential and are able to improve."
Come support the Cougars Friday September 23 as they will take on the Bonanza Bengels, this will be the Cougars homecoming game. 
Women's Varsity Volleyball
by Brianna Gracia
Coronado's Women's Varsity Volleyball took on Durango High School Wednesday, September 14. The final score was 3-0, with Coronado snatching the victory. 
"We work really well as a team," said senior Nanea Merryman. "We talk a lot, communicate well, and our student section was really good." 
In the first set, Coronado easily dominated the round, with the score being 25-16. The second set, though, took much longer, as Durango seemed to gain rigor, fighting back. In the end, Coronado beat them out with a score of 28-26. Finally, for the third set, the girls played fiercely to ensure their win, taking home the competition with a score of 25-15. Despite their excellent performance, there is always room for improvement.
"I think we could run more plays," said Merryman. "Change it up sometimes. We do what we're most comfortable with, but switching things up could be good for us." 
Catch Coronado's Women's Varsity Volleyball team face up against Palo Verde Tuesday, September 20 at 6pm.