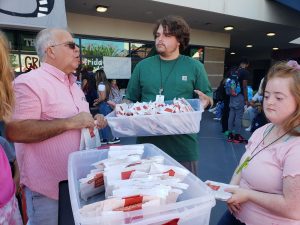 by Madeline Vernaci
Many students at Coronado may know Mr. Manning; however, they might not know much about the many things he does for the school. While his main job is to teach in a special education class, he also sells cookies at lunch and manages the school garden. He has accomplished so much at Coronado, and before he retires this year, he is sure to accomplish even more.
"My class is actually called Life Skills, so my job is to just help the kids get ready to graduate and move out into the real world, learn how to count money and be nice, ask for things on the menu, and just basic life skills, things that they would use every day," Mr. Manning said. "That's exactly why we sell cookies, because first they have to bake them, which requires some effort, then we bag them, one per bag, and for some kids that's really hard. Then we sell them, which means that they have to talk to people, they have to interact, they have to know how much they cost, and they have to be able to count money."
In his Life Skills class, he and various student aides help his students bake and bag cookies before selling them at lunch. One benefit of selling cookies at lunch is that all money raised has been going towards the school garden that Mr. Manning brought to life around ten years ago. It began as a pet project, but has slowly grown into something any student can love.
"My vision was that we would have a small bed where kids could go out and pick a carrot," Mr. Manning said. "Much smaller, and it just mushroomed. Far bigger than I had anticipated. Well, I mean very candidly my goal is to get it just tip-top shape so we can hand it off to whoever takes over next year, and everything will be working perfectly."
While Mr. Manning was the one to bring forth the idea of a garden, he's not the only one who has kept it up all these years. With the help of Coronado students, and community groups such as the Boy Scouts, the small single bed that was the garden initially, has grown into what can be seen today. It now includes many planters and trees, as well as a mini cactus garden which a desert tortoise named Nancy currently inhabits. 
"I came to know of Mr. Manning through my friend Hannah, she was going to the garden before and invited me," sophomore Cameron Curry said. "I think he's a really great and fun person. And I think everything he does for the school is amazing. One of my favorite memories was when he cut up a bunch of lemons from the tree and let us eat them. We also made secret messages by using the invisible ink with lemon juice method."
Mr. Manning is an incredibly unique individual who has made a mark on many students' lives across campus. Some students in volunteering clubs like Coronado's Key Club have been able to help out Mr. Manning in the garden after school, and it ends up being so much more than just some work to do for volunteering hours.
"When I first started going to garden help, I had no idea what to expect and just imagined boring yard work or something like that," junior Michael Denman said. "When I got there the first time and saw him, I thought he was going to be more gruff and a bit strict, but when he started talking to us he seemed like a really nice, outgoing person. As I continued going, I found out more about him and I liked it all. He explains everything really well and makes what you're doing fun. He really just helped reinforce the fact to me that you can't really know what someone is like until you've talked to them and gotten to know them."
There is no doubt that Mr. Manning has made a lasting impact on the lives of many students, and will always have a special place in this school. His positive attitude towards everything in life has inspired many students to keep trying, even when things don't turn out so well the first time. Most of all, he has been genuinely happy teaching at Coronado, and that can do nothing but help to inspire happiness in others.
"I just love being at Coronado, working with my students, and working with you guys," Mr. Manning said. "It's such a great fulfilling thing for me. I decided a long time ago that if I'm going to have to do something for a living, then I want to have fun doing it. I think that the key, really, is twofold, is to have fun."
Mr. Manning has been a wonderful part of Coronado for so many years, and everyone will be sad to see him go.  Fortunately, even from retirement, everyone can rest assured that he'll be having fun, and enjoying himself.