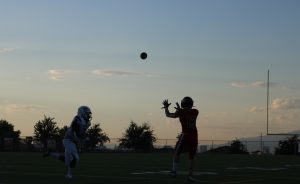 by Aubree Gearhart
On Friday, November 11, the Coronado Cougars took a tough loss to the Silverado Skyhawks. The final score of the game was 17-57. This caused the Cougars to end their time in playoffs as well as their season. This was a bittersweet game for the Cougars, as it may be one of their last times playing football. 
"It was a tough game and my last high school football game," senior Preston McQueen (#20) said. "But overall this season was a success in my eyes with big game wins against Spring Valley and Green Valley. With that, this group of guys was amazing to play with and I couldn't ask for a better team." 
Although the Cougars were unable to beat Silverado, they are proud of their wins against other large competitors such as Spring Valley and Green Valley. These boys are a very tight-knit and close family-like team, with great support for each other. 
"This year was great for Coronado football, we shocked many people with the way we performed this year and we had a great record that people couldn't even imagine at 9-3," senior Davion Martinez (#99) said. "We made it all the way to the semi-finals but lost to a tough opponent, Silverado. I'm so proud of my team. I have accomplished so much this season from breaking the all-time record and single-season sack record to committing to Southern Utah University. I'm proud to call SUU my new home, I'm excited for the next chapter of my life. None of this would've been possible without my teammates and coaches. I will always remember Coronado and all of the amazing memories we've made and all the wins and losses we took as a team. We had some huge wins and upsets against many great teams, not only that but we achieved greatness." 
Many athletes feel similar to the way Davion does about the last high school season. The last game is a very bittersweet moment for any athlete, as these leave you to reminisce on everything you have accomplished over the past four years. Senior year is definitely a year to remember.