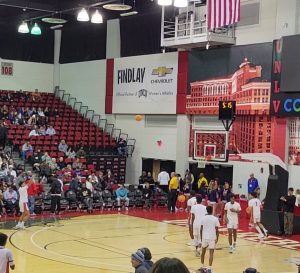 Varsity Basketball 
by Brianna Gracia
Coronado's Varsity Basketball team took on Bishop Gorman at an invitational game hosted at the Cox Pavilion on Sunday, January 21. Though Coronado's varsity team felt pretty good about the game going into it, the night ended with a score of 67-65, with Bishop Gorman taking home the victory. 
"Coming out of the gates, we were really strong," said Blake Sullivan, 12. "In the closing stages, I'd say we played even better towards the end of the night. There were just a few mishaps that kept us from winning." 
With such a close score, Coronado definitely put a lot of heart into the game. The team as a whole played hard, and with their close bond, worked effectively as a unit. There were a few key players, such as Josiah Cunningham, who played exceptionally well, and Sebastian Mack, who was notorious for making multiple three-pointers throughout the game.
"Next time, I think we could know our defensive assignments better," said Sullivan. "Just knowing who we are supposed to be guarding could really up our game. We also need to learn to acknowledge each member's strengths and weaknesses and apply that to our gameplay. 
Coronado's Varsity Basketball team hits the courts again on January 24th against Centennial in an away game at Centennial at 6:30 pm.
Women's Varsity Basketball
by Ienka Santos
The Coronado Women's Varsity Basketball team played against Liberty High School in a home game on January 19th at 5 pm. Unfortunately the Cougars lost the game with a score of 57-70.
"A big part of the game was boxing out and crashing the board," senior Imani Bieniemy said. "We didn't do enough of either."
 With their best foot forward, the Cougars started the game. With it going back and forth, it ultimately ended with Coronado being down 7 points in the first quarter. The game flew by, with Coronado at 29 and Liberty at 38 by the time halftime arrived. After a continuous back and forth, the game ended with a final score of 70 for Liberty and 57 for Coronado. 
"We didn't play as well as we could have, but we'll bounce back," Bieniemy said. "We'll continue to work hard in practice, look at our film, and play our game with heart."
The cougars tried and failed, but that does not mean they are going to give up.
Make sure to tune into the Coronado Women's Varsity Basketball team in their next game, where they play against Centennial, at Centennial High School on January 24th, at 5 pm.
Varsity Wrestling
by Talia Medina
Coronado's Varsity Wrestling team had an away match on Friday, January 20th, and Saturday, January 21st, at Chaparral High School. The match was a Chaparral Invitational, which means that each wrestler had their own individual scores instead of the entire team. However, two cougars on the team, Luke Newman and Nick Higgins won 7-0 against Basic High School and 6-3 against Moana Valley.
"My match was terrific and very intense," said sophomore Luke Newman. "I am proud of my technique and taking my time instead of rushing moves. I would like to improve my stamina and my bottom game."
Since Wrestling is all about timing and figuring out what time is best to do a move, many of the members of the team are reflecting on their skills but, they have hope that they can improve during the next match, especially during a bottom game, where they can get a 1 point escape or a 2 point reversal.
"I need to improve on my shooting form," said junior Nick Higgins, "As well, my pinning step needs to be deeper, so I can successfully drive the opponent better and score. Lastly, I need to improve my reaction time and planning. I need to be ahead of my opponent, thinking counters and shots to take."
Coronado's Varsity wrestling team will have another match where they'll slam down their opponents on Tuesday, January 24th at Coronado and it will be against Palo Verde.