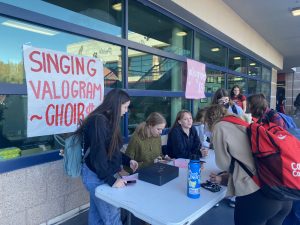 by Sienna Nicholson
February has arrived, and it's finally that time of year to show your love and appreciation for those around you. Couples, crushes, friends – now is the time to tell them how deeply you care and the Madrigals of Coronado are here to help.
Continuing the yearly tradition, the Madrigals sold Val-o-grams to the students of Coronado. From February 6th to the 10th at either lunch, students were able to purchase a song of their choice to be sung to someone by a barbershop quartet. Whether they want to proclaim their love to a secret someone or simply tease a friend, now was their chance.
If they had decided to purchase, which cost $5, they would choose a song from the offered selection, including options such as "Won't Say I'm In Love" or "Be My Baby", to be performed for a person of their choice. 
When the day of love arrives, that selected group of singers will find their special someone and serenade them in their honor. They will be taken up to sit before the entire classroom as the group will begin their song. Depending on the song of choice, the group will break out into choreography surrounding their beloved, perhaps even giving them a treat by the song's end. They will then be told who sent such a lovely song their way, (though don't worry, keeping anonymity is an option), before heading on their way.
While time has run out to purchase these lovely little tunes, the Madrigals' Val-O-Grams will ensure everyone will have a love and music-filled Valentine's Day.