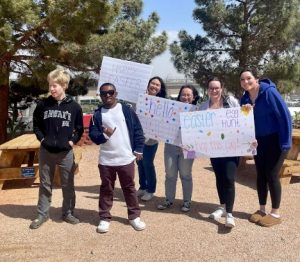 by Brianna Gracia
Cougars4Change never fails to get involved in the school community and always knows how to spread some festive cheer. On Monday, April 3, the club teamed up with the special education faculty to organize the exciting Easter Egg Hunt in the school garden. 
"The goal is to bring together the kids of Coronado," said Cougars4Change advisor Ms. Johnson. "One of the students told me it was 'the best day of his life!' It makes it all worth it." 
Though there was a bit of wind, the event seemed to be successful, according to Cougars4Change. Before the event, club members put together Easter bags for the attendees. They also filled the eggs with special goodies and surprises that would bring smiles to students' faces. 
"I just want students to be friends," said Johnson. "I love seeing kids serve each other and find the joy that comes from doing kind things." 
This event started up a few years ago and has been a beloved Easter tradition ever since. Members can agree they look forward to the event and the joy that comes with it. Coronado is all about creating a big campus family, and this is no doubt a prime example of the school community coming together.