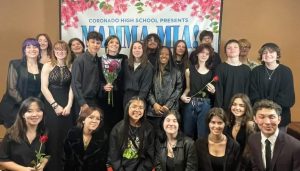 by Talia Medina
Coronado's theatre department is most well-known for its outstanding performances each year featuring their fall & spring shows such as Hamlette and Mamma Mia! However, without the help of the theater's tech director, Ariana De La Puente, there would be no show.
Theater tech can be a very time-consuming and challenging class. The students that are involved in it, especially for the spring musicals, try their best to make sure that each show runs smoothly regardless of the conflicts that occur. For instance, when a costume is missing or a microphone isn't working, techs are there to fix the issue. Ariana started in theatre tech with Coronado's  2019-2020 production of Les Misérables and explained the reason why she decided to join tech.
"I started with theater tech because I wanted to be able to get experience in the entertainment-production industry while also getting college credits," senior Ariana De La Puente said. "I was a little overwhelmed at first because of the hands-on learning structure and the amount of work it acquired, but I fell in love with it almost as soon as I started working on my first show."
Throughout her years of being in Tech, Ariana learned several new skills and faced several challenging situations that she was easily able to overcome. She made sure that everything went smoothly and helped several of the other students in the department with their tasks when things were becoming stressful. 
Now that the 2022-2023 school year is coming to an end, several seniors have thought about what they want to do for college and their careers as well. There are a plethora of different jobs that seniors have thought of doing but Ariana has decided to continue working on achieving her dream once she leaves for Cal state Northridge. 
"I'm planning to go into TV/Film production for college," Puente said, "I'm hoping that I'll be able to make a career out of that once I graduate."
Ariana has expressed interest in TV/Film for as long as she can remember, and with her four years of experience in theatre tech, she will be able to easily be able to transition into the industry and help with several films while directing some of her own. 
Ariana De La Peunte will forever be known as a very hard-working and ambitious tech director and without her help throughout her high school career's theatre shows, Coronado's tech department wouldn't have been able to do it without her help.