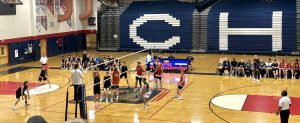 by Ienka Santos
On Tuesday, April 25th, the Coronado Men's Varsity Volleyball team competed against Green Valley High School, with Coronado coming out victorious. 
"I'm happy that we won, we did some things very very well, and we had some things that we need to be better at," Coach Matthew Johnson said.
The match started off with Coronado dominating the court, with a final set score of 25-7. The following set however, wasn't such an easy win for the Coronado team, with a set score of 25-18. Unfortunately for the third set, Coronado lost by 5 points, making the final set score 20-25, giving Green Valley their first win. The 4th set was quite a close match, with both teams scoring back to back, and longer rallies; the Coronado boys were able to score the winning point, ending the game with a score of 25-23.
"We had a lot of really good moments," said Johnson. "I wasn't nervous, even though there is always a possibility of losing."
The crowd was wild due to this game being so back and forth. A silence fell during the play of the fourth set, and when Coronado won the game the roar from the Cougars was so loud that it could be heard from the outside. A memorable game indeed.
Make sure to catch the Men's Varsity Volleyball team in their next home game on Monday, May 1st at 6pm, where they go head to head against Sierra Vista High School.