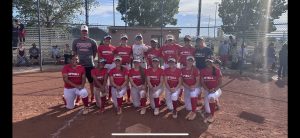 by Sienna Nicholson 
On Monday, April 24th, 2023, Coronado's own varsity softball team went up to bat in a home game against Palo Verde High School. Unfortunately, the night didn't turn out in Coronado's favor as they lost with a final score of 15-3.
While the game had started off well for them, the tide soon turned for Coronado after a pop fly was unfortunately not caught, giving leverage to the opposing team. From there the score seemed to tumble down against them, Palo Verde quickly making it to the double digits.
"I think the game went really rough and it was probably our worst game of the season," freshman Summer Gillian commented the day after the event. "But, I think we'll do better down the line the more we practice."
Similar thoughts were shared throughout the team, regarding Monday's game as an unfortunate one with nothing to comment on. However, one success of the night was the constant pitches of junior Paisley Magdaleno. As an ace pitcher, Magdaleno was incredibly successful with her throws, doing exceptionally well despite not frequently taking the role of pitcher.
Along with Magdaleno, several positions were tested with new players throughout the game, softening the blow of the heavy results.
"The Palo game was not exactly representative of our team," Varsity Softball Coach Katie Lord explained. "It was more of a get everyone some playing time, try new positions, overall a fluff game."
Even though the loss of the game took a toll on the team, the players of Coronado's varsity softball team are not yet ready to back down.
"We didn't play out best, sure, but we're ready to bounce back Friday and work together as a team," junior Kendall Selitzky reassured.
This Friday, the team will be sure to fight for a stellar recovery, hopefully winning in the fight against Desert Oasis High School at Coronado High School at 3:30 pm. Come support this hardworking team, and cheer them on to what's sure to be a future victory.