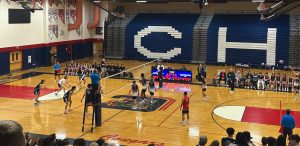 Varsity Men's Volleyball
by Ienka Santos
On Monday and Thursday, May 1st and May 4th respectively, the Coronado Varsity Men's Volleyball team went up against Sierra Vista and Shadow Ridge High School in which they came out victorious for both games.
"The games were pretty good; I think we were a bit slow in the beginning of the sets, but once we picked up the pace, no one could really beat us," senior Christian Dobson said.
The match against Sierra Vista was indeed intense, but nothing that the Coronado Varsity Men's volleyball team couldn't handle, further proving so by winning in 3 straight sets. The first set was quite a start with a set score of 25-18. The second set doesn't fall off short with the final set score being 25-17. The third set however wasn't as easy as the first two, mostly consisting of close calls, with a final score of 25-23, giving Coronado the win.
"To be honest our teamwork needs a lot of work, so if there was one thing we could improve on it would be communication," Dobson continued.
The match between Coronado and Shadow Ridge was truly one of the best ones during this season, with both teams scoring back to back, nothing can compare. The first set was very close, with Shadow Ridge leading the first few points; Coronado pulled through and ended with a set score of 26-24. The second set was also a close one, only this time Coronado took the lead and the win, with a final set score of 25-21. The Coronado Varsity Men's Volleyball team wrapped up the game with a match point of 25-17.
"We were either going to win very fast or lose very fast," said Dobson. "Which is why the win felt really good."
These games were truly spectacular, the Coronado Varsity Men's Volleyball team is a team that you cannot defeat so easily.
Be sure to catch their next game on Tuesday, May 9th, 6pm at home court, where they face Foothill High School for their first round of playoffs. 
Men's volleyball serve at their first playoff game 
by Tainá Queiroz Fonseca 
Coronado high school faced Foothill high school on Tuesday, May 9th, at the first game of playoffs. Coronado high school ranks at number one for boys high school volleyball in Nevada, while Foothill ranks at number fifteen. With both teams in the top half of the leaderboard, this was sure to be an interesting game. 
The game started off with the Foothill Falcons missing their serve. Yet, the first set was surprisingly close with a score of 15-12 twenty-five minutes in. Coronado called their first time out of the first set when they were up 18-15. Foothill called time out soon after when Coronado was up 24-21. The first set ended close with Coronado winning 25-21.
While Coronado remained ahead of Foothill, the players weren't confident on their teamwork out on the court. 
"We did about the same [teamwork] as our last game, I still don't think we worked together as a team enough," senior Christian Dobson said.
While some of the players had low confidence in their teamwork, while others had a different perspective. Notably, William Haase.
"Personally, this might've been the best game I've played in," senior William Hasse concluded. 
The second set started off slow but Coronado soon took the lead. Foothill took their first time out of the second set while Coronado was up 12-6. Foothill takes their second time out of the second set while they were down 3 points 12-9 . Coronado breezed through the second set and won 25-14.
Third set wen quite fast with Foothill still putting up a fight. Yet Coronado's players were fast to score, ending the third set in half an hour and winning 25-17.
Coronado Cougars won all three sets and will advance to the next playoff game taking place against Shadow Ridge on Monday, May 15th, at 6:00pm at Coronado high school. We support our fellow cougars with their next challenge. 
Varsity Baseball
by Madeline Vernaci
Coronado's Varsity baseball team played two games this week: Monday, May 1, and Thursday, May 4th. The Cougars won the first game against Basic High School, but lost the second against Palo Verde, nonetheless keeping them in a good position for when they move into the playoffs.
"The last two games we've done well, we were 1-1 in the last two games and we're playing in the playoffs next week," junior Jack Page said.
On Monday, Coronado's Cougars played well in an away game, scoring 4 runs, ending the 7th inning with a score of 4-3, and defeating Basic's varsity baseball team. However, on Thursday at home, they fought bravely, but ultimately lost the game in a shutout against Palo Verde, 10-0.
"We have to practice more on our hitting because that's the thing holding us back lately," Page said. 
Coronado's Varsity baseball team will play next in the first NIAA baseball playoff game against Bishop Gormon at a neutral location Monday, May 8th, at 4 pm. Don't forget to support your fellow Cougars as they prepare for the playoffs!
Varsity Baseball
by Brianna Gracia
Coronado's Varsity Baseball team played against Bishop Gorman Monday, May 8th, at 3:30pm in an away game. With a season of highs and lows behind them, they were determined to make this game count. Though they put their hearts into the game, the Cougars were beat out by Bishop Gorman in a final score of 9-2. 
"Gorman is a top 10 team in the nation so it would have taken a lot of team effort to beat them, but it was still achievable," said Nick Morrison, 12. "It started off well, but then they started hitting really well and there was nothing we could do."   
Despite the loss, there were plenty of highlights and shining stars in the final game. Jase Pashales hit a homerun in the last inning, which did earn Coronado extra runs. The Cougars were also on fire with their defense, something the team has taken pride in this season. 
There are definitely bittersweet emotions swirling around amongst the team as the end of the season looms ahead. Nine seniors will be graduating this year. Though great things lie ahead for them, players are finding it hard to let go. 
"It's definitely sad," Morrison said. "I've been playing with my teammates my entire life, so it's weird for all of us to go on our different paths." 
Coronado's Varsity Baseball team took on their final game against Basic High School on May 9th, 2023, at 3:30pm. 
22-23 baseball season final game
by Jordyn Tribus
The Coronado baseball team advanced to the NIAA playoffs and played Basic High School on Tuesday, May, 9th. After previously winning against them, the Cougars felt confident about their game. Before they knew it the first pitch of the game rolled out, and immediately the Cougars were trailing. Unfortunately, this was the game that ended Coronado's 22-23 season. 
"The Basic game did not go our way but we didn't back down until the end of the game," said senior Nick Morrison. "There was nothing else we could do other than say that it's baseball."
The Wolves were able to squeeze out three runs in the first inning, giving them a 3-0 lead over the Cougars. The Cougars were able to hold the Wolves in the second inning and didn't let them gain any runs; however, they were unsuccessful in gaining runs themselves. The third inning is where the Cougars fell off. They weren't connected and led up 6 runs, increasing the Wolves' lead. It wasn't long before the game ended with an early call and a score of 1-12 loss. 
"It was unfortunate to lose so early in the playoffs, but it was a fun ride to have with my teammates and I am very thankful for those memories," said Morrison. "The whole season we have been making a name for ourselves and proving to everybody that we are a team to be afraid of and that was our goal since the start."
Coronado baseball ended their season with 19 wins and 13 losses. They persevered through their losses and gained confidence with each of their wins. The cougars fought till the very end and will never forget their 22-23 season. 
"This was an incredible season for Coronado baseball," said senior Caden Hunt. "We really changed the narrative of our program and people in town knew. I had a ton of fun this season and wouldn't change it for anything."