By Jolie Ross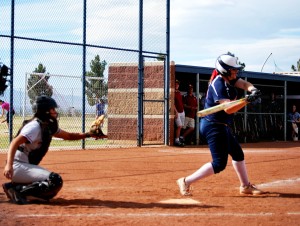 The Cougars softball team played against the Del Sol Dragons on March 31 for their first game in league play.
The first inning started with a bang, with a single hit by #10, Taylor Okamura, freshman,  allowing #14, Jaiden Johnson, sophomore, who was on second base,  to run around third and into home. After this first run scored, the Cougars continued on their scoring streak with almost every other hitter up to bat hitting in a run either by an RBI or an error by Del Sol. After going through the batting order twice, the Dragons finally closed the inning with the Cougars leading into the top of the second 15-0.
The Cougars kept scoring with two more runs in both the bottom of the second and the fourth. To finish the innings quicker, the Cougars left bases early allowing the count to go three strikes in each inning.
During the fourth inning, the Dragons hit three runs making the score 3-17.
 The Cougars vs Dragons game ended in a mercy rule after five innings. The softball team beat Del Sol with a final score of 19-3, putting their league status 1-0 and all time record of 8-10.
The Cougars next game is scheduled at Liberty against The Patriots today at 3:30 p.m.