By Maddie Baker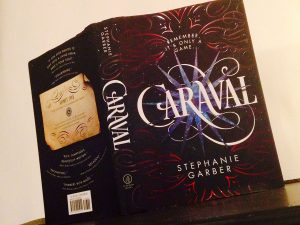 The daring adventures and dazzling romance that debut in Stephanie Garber's first novel "Caraval" will leave readers gasping for breath and craving more.
The story centers around an infamous game designed by an even more infamous ringmaster, named Legend. When two sisters finally receive their invitation to the annual game, events unravel to offer them everything they've dreamed, but the game might be far more destructive than they ever imagined.
The book contains magic and peril, danger and deceit, romance and betrayal. From the elegant cover to the elaborate imagery, "Caraval" intrigues audiences and stuns readers until the very end. The game revolves around Tella and Scarlett, who flee their home island and their father only to find themselves entrenched in Legend's game. With the help of an arrogant yet handsome sailor, Julian, Scarlett discovers that not all is as it seems in the midst of the caraval.
Scarlett, the main character, goes through emotional growth and has several trials to overcome. Her journey depends on her love for her sister and her trust of Julian, who infuriates and impresses her at the same time. She is caring, stubborn, intelligent yet naive, modest, and cautious. Scarlett describes her surroundings, the people she meets, the sounds she hears, and her emotions in vibrant color. It adds an extra layer of luxury to each aspect of the book.
During the commotion, the audience meets Julian, who's shrouded in mystery and is ruggedly handsome. He tries to help Scarlett on her path to finding her sister, but he refuses to admit why. There is also Tella, Scarlett's younger sister, who is impulsive and bold, gets kidnapped at the very beginning of the game. Players must find her to receive this year's prize- a wish granted by "Master Caraval Legend" himself. Legend is a master trickster and a spectacular host, staying behind the curtains to pull the strings of all his puppets, and to him, everyone who stays to play is a puppet.
There were many twists and turns that blindsided readers, but some scenes could have been more impactful if the summary on the book didn't include certain aspects of the plot. The ending, however,  was unpredictable – much like "Caraval" itself. The novel was beautifully orchestrated with dark undertones that added a grittier and more grounded aspect to the fantastical story. Audiences will demand a sequel after this small taste of Garber's carefully crafted illusion.