By Lexi Lane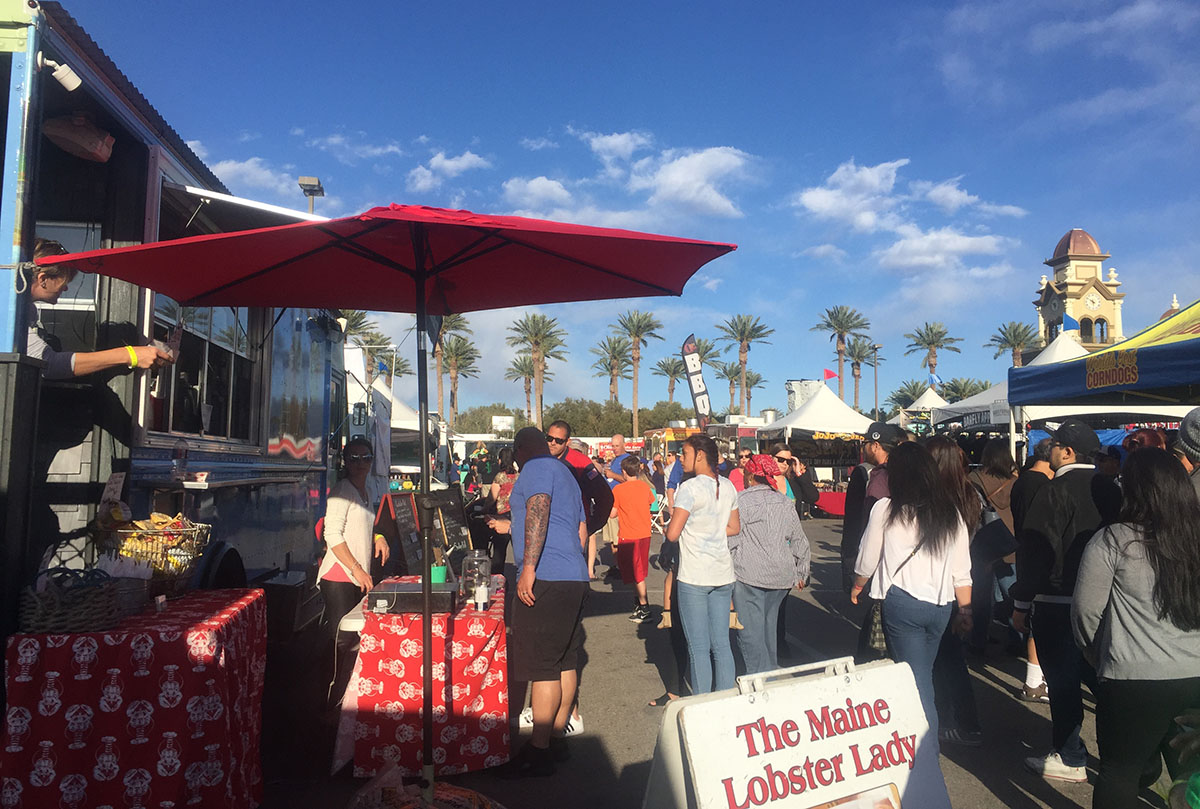 Food trucks from Las Vegas, California, and Arizona flocked to Sunset Station from April 27 through 30. For just $10 at the door; people entered after waiting in the semi-long line, and live music and blaring DJ's greeted people.
The event featured unique cuisine all in one place, and celebrity judges from the Food Network, including Shaun O'Neale and Jack Pollock.
There were aisles of trucks to choose from, as well as a large eating area that shielded customers from the sun and wind, but the weather didn't stop foodies' fun.
One of the standout trucks was Stripchezze – where everything on the menu involved cheese, from grilled cheese with jam to pizza. Despite its notorious menu, the standout item was the "Daddy's on a Roll," which took Asian elements of egg rolls and kimchi sauce, and filled it with mac and cheese.
Customers began craving something sweet, drawing them to the Rolled Ice Cream station. Originating in Thailand, this new way of eating ice cream has grown in popularity in the U.S. They flatten out the ingredients and roll them into perfect spirals. There were flavors including birthday cake and cookies and cream.
However, for those were looking for some sweet breakfast food and dessert fusion later in the day, WAFL was the solution. A California-based food truck combined waffles with fun toppings, from chocolate syrup to whipped cream, making a delicious combination.
Foodie Fest also had carnival themed attractions and rides available with purchase of tickets, including a ferris wheel and spinning rides for children. This made the out-of-pocket cost increasingly more expensive, from ticket purchases, rides and food. The worst of them all, though was the "Great American Foodie Fest" exclusive water that had to be bought if a drink was wanted to beat the heat.
The festival was a fun way for food lovers to enjoy all their favorite creations and experience something different to eat. Foodie Fest is expected to return in the fall.