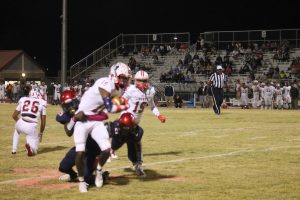 Football
By Ryan Kelleher
Men's varsity football fell to the Liberty Patriots, 3-43 on Friday, Oct. 13. Liberty's superior defense continuously shut down the Cougar offense and completed a number of interceptions.
"We definitely could have played better, but it was nice seeing the Liberty guys on their backs and to see us working as a team," Riley Danielson, sophomore, said.  
Varsity will play again atGreen Valley on Friday, Oct. 20 at 7 p.m. Heading into the game, the Cougs stand with a 2-5 record, while Green Valley has a 6-1 record.
Freshman football also suffered a defeat to the Patriots, 7-48. Their next game will be at Green Valley on Thursday, Oct. 19.
Women's Volleyball
By Joshua Christensen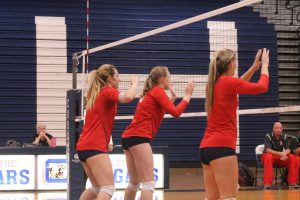 TheLadyCougs won 3-0, against Liberty on Thursday, Oct. 12. JV shut out the Patriots 2-0, and freshman went 2-1. The freshmen struggled mentally, the game coming down to the final set.
"Varsity really showed complete dominance. They slipped a little bit in the third set, but they recovered," Jailene Evans, freshman, said.
All teams will play at Green Valley on Oct. 16. Coronado's league record is 6-0, and Green Valley's is 5-1. The varsity team starts at 6 p.m. and JV and freshmen start at 5 pm.
Women's Golf
By Saveria Farino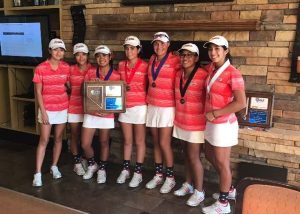 At the Sunrise Region Tournament, women's varsity golf won their fifth consecutive regional title, finishing with six out of the top seven golfers. The tournament was held at Bear's Best clubhouse from Monday, Oct. 9 through Tuesday, Oct. 10.
"The season is pretty demanding so I had to learn how to balance competitive golf and school. At state, I'm looking forward to the competitive atmosphere and the last few rounds I get to play for Coronado. Also we have the opportunity to win four state championships in a row which is really special because we won the first state championship when I was a freshman," Sami Penor, senior, said.
The team has won three consecutive state titles and is hoping to secure their fourth. The state championship will begin Monday morning, Oct. 16 at Highland Falls Golf Club in Summerlin.
Men's Soccer
By Bryce Becker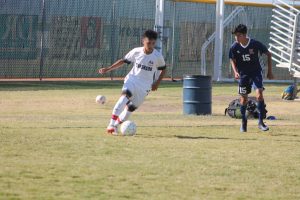 Men's varsity soccer dominated 8-0 against Basic High School on Thursday, Oct. 12. After scoring four goals in the first half, Coronado kept possession and was able to score four more goals to win the game. This is the team's seventh consecutive win.
"We start off practice by discussing our last games, and we have to do two things we did well and two things we need to improve on. This helps us visualize and see what we can do to improve our way of play," Harrison Poste, junior, said.
Varsity soccer will play again on Monday, Oct. 16 against Green Valley High School.
Women's Soccer
By Angelina Callorina
Women's varsity soccer maintains their undefeated season beating Silverado 8-0, on Tuesday, Oct. 10, and Basic 9-1 on Thursday, Oct. 12. JV also added to their undefeated season, winning against Silverado 6-0, on Tuesday and Basic 8-0 on Thursday.
The freshman team was also successful defeating the Skyhawks 6-0 on Tuesday, Oct. 10.
"Our season is going very well. We are undefeated and haven't been scored on. I don't feel like our team needs to work on anything because we work well together and never give up. I'm expecting that our team goes undefeated for the whole season," Gianna Irungaray, freshman, said.
The varsity women's next home game will be on Tuesday, Oct. 24 against Liberty, and JV's next home game will be on Thursday, Oct. 26 against Foothill.
Cross Country
By Sage Tippie
At the Lake Mead Invitational on Saturday, Oct.14, varsity cross country girls took first place with 66 points, and varsity boys took fifth place, with 138 points.
In the varsity girls' race, Caitlin Shannon, junior, took third overall finishing 20:52. Claire Rawlins, sophomore, followed in fifth, securing a 20:58 finish. Sophomore Ellen Wise took tenth coming in at 21:41.
"This race was definitely a more difficult one with the wind and sandy hills. Running this race will prepare us for regionals though because it is the same park, so we will know how to handle the more difficult aspects and do even better next time," Sara Moon, sophomore, said.
In the varsity boys' race Eddie Smisson, sophomore, took sixteenth place with a 17:48 finish. Nathan Collins, senior, finished in 18:03 in 24th place. The next race is on Saturday, Oct. 21 at Basic for divisionals.