Men's Volleyball
By Ryan Kelleher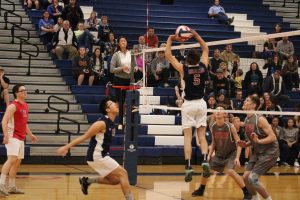 At their first home match of the season, the men's varsity volleyball team fell to the Arbor View Aggies, 3-1 on Wednesday, March 14. Ben Bloss, senior, led the offense with 19 kills while Payton Burks, junior, contributed with 10 kills and seven blocks.
The Cougs started off strong in the first set but were overwhelmed by the Aggies' superior defense. Despite coming close, varsity lost the first set, 25-23. The defeat of the first set motivated and pushed the Cougs to work harder. In the second set, Coronado destroyed the Aggies, 25-14. This same fire was not seen in the final two sets, as the Cougs lost, 25-23 and 27-25.
"This week's losses taught us how to be a team and brought us closer together," Alex Winiarczyk, sophomore, said. "We hope to learn from our mistakes, improve our weaknesses, and come back to beat these teams later in the season."
Varsity volleyball also lost two away games this week to Centennial, 3-1on Tuesday, March 13 and to Shadow Ridge, 3-0 on Thursday, March 15. Currently, varsity stands with a 3-7 record, but league matches are yet to start. The Cougs are back at home on Tuesday, March 20 against the Boulder City Eagles at 6:00 pm in the gym.
Men's Varsity Baseball
By Bryce Becker
Men's varsity baseball challenged Basic in the Boras Classic championship game in Phoenix, Arizona, on Saturday March 17. The game ended 4-18 sending Basic home with a win.
"After losing to Basic, I learned we can't have our energy low once we start to get in a deficit. We need to keep it up because we are a team that feeds off of energy from our own guys," Kyle Hall, senior, said.
In the first 30 minutes, Basic racked up 10 runs and secured the lead. UNLV commit Jake McLean, senior, hit a homer with two RBIs for the Cougars in the fifth inning, but it wasn't enough to come out on top.
"After our game, I realized I always need to have my teammates; backs and to keep working hard because we know we are the better team," Owen Hallett, senior, said.
The men's varsity next home game will be on Thursday, March 22 at 3:30 p.m.