Men's and women's varsity tennis
By Sage Tippie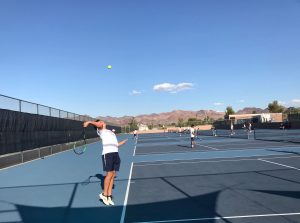 Last week in varsity tennis, the women's team won 11-7 against Clark, 17-1 against Foothill, and 17-1 against Durango. The boys lost 11-7 against Clark, but won 14-4 against Foothill and 18-0 against Durango.
On Sept. 5 in an away game facing Clark High School, women's varsity tennis dominated the court 11-7. Blythe Buntrock, junior, won 2-0 in her round of singles while sophomores Ava Nhaisi and Sidra Wohlwend won 2-0 in their round of doubles. In their Thursday away match versus Foothill, Coronado won 17-1. Sophomores Paige Furin and Sydney Osburn both won their singles matches 2-0. Destroying the Falcons, senior Rayne Hayes and junior Sophia Potamitis earned 2-0 in the doubles. At their Saturday home match versus Durango, the Cougs smashed the Trailblazers 17-1. Sophomores Madison Garman and Kaylin Heiss led the Cougs to victory, each winning their round of singles 2-0.
"It feels so great that we have done so well early in the season," Hayes said. "Winning games now is just a teaser for the rest of the season, and I can't wait to see what's to come for our team."
At their home game against Clark, men's varsity tennis took their only loss of the week 11-7. Seniors Colin Peltier and Akhil Mohan put up a fight in their round of doubles earning 2-0. They dominated the Falcons in their Thursday match, where they won 14-4. Junior Sebastion Frace earned 2-0 in his round of singles while sophomore Zachary Sullivan won 3-0 in his round. Coronado swept Durango away on Saturday 18-0. Sophomores Reece Hankins, Rohan Konchada, and Tanner Philips led the team to triumph in the doubles rounds.
The tennis team will face off against the Bishop Gorman Gaels at home at 3 p.m. on Sept. 12.
Women's varsity volleyball
By Lulu Clemmons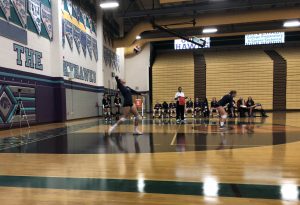 Women's varsity volleyball shut out the Liberty Patriots 25-13, 25-21, and 25-19. in a home game on Tuesday, Sept. 4. The Cougs made 28 kills, eight aces, nine blocks, three digs, and 25 assists. This being their tenth win of the season and third consecutive win.
"I loved when Sasha [Bolla] hit the ball in the tape and Emily [King] got it back up," Reni Ajayi, 10, said, "That was a cool moment."
The women continued their streak, shutting out Silverado 25-9, 25-19, and 26-24 in an away game on Thursday, Sept. 6. The Cougars got 39 kills, 13 aces, two blocks, 46 digs, and 38 assists. This left the Cougs with an upper hand going into the Durango Fall Classic tournament this upcoming weekend.
The women's next home game is the start of the Durango Fall Classic on Friday, Sept. 14.
Men's varsity soccer
By Bryce Becker
Men's varsity soccer dominated 9-0 against Boulder City in a home game on Tuesday, Sept. 4. Senior Alfredo Diaz scored four goals, followed by junior William Kingler who scored two goals. Junior Lincoln Aquino had two assists and a goal, and sophomores Javier Estrada and David Woods each scored a goal.
In an away game versus Eldorado on Friday, Sept. 7 the Cougars lost a tough battle 2-1. Eldorado started the game strong with a goal in the first half, however, the Cougs answered back in the second half with a goal from Diaz. In the end, Eldorado scored again and held on to the lead.
"I feel like our team is doing well so far and all the way up to Friday we've played well," Taye Adams, sophomore, said. "What I feel like caused us to lose on Friday is the conditions and lack of preparation. Towards the end it was difficult to pull through because of the heat. Next game we will prepare by training hard and taking this loss as a lesson and learning from it."
The Cougars next home game is on Thursday, Sept. 13 against Sierra Vista.
Cross Country
By Bryce Becker
Women's varsity cross country placed second of 23 schools in the Larry Burgess Invitational meet on Saturday, Sept. 8 at Sunset Park. The Cougs scored 85 and were only beaten by Cedar, who scored 40 points. In the three-mile race, junior Claire Rawlins finished in 19 minutes and 10 seconds placing sixth.
"Our girl's team did pretty good," Rawlins said. "We were missing one of our fastest girls so we can definitely do better, but we did good given the circumstances. We are going to continue training with speed workouts so that we can close the gaps between some of our fastest girls."
Men's varsity cross country placed tenth of 23 schools. The Cougars scored 251 points beating rivals Silverado and Foothill. The Cougs next meet is Wednesday, Sept. 12 at Foothill.