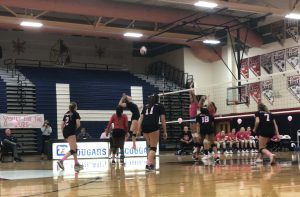 Women's Varsity Volleyball
By Lulu Clemmons
Women's volleyball defeated the Green Valley Gators in three sets: 25-9, 25-19 and 25-18 for their annual Dig Pink Match on Tuesday, Oct. 16. The Cougars accumulated 35 kills, nine aces, six blocks, 50 digs and 34 assists.
"It was a really competitive game, but we knew there was a bigger thing we were playing for," Reni Ajayi (1), sophomore, said.
The Cougs crushed the Basic Wolves: 25-19, 25-23 and 25-7 on Thursday, Oct. 18. The Cougs now sit with an 8-2 league record. Catch the Cougs this week as they play Spring Valley High School today and Desert Oasis on Wednesday, Oct. 24 for their last seasonal games before playoffs.
Men's Varsity Football
By Matthew Eskridge
Men's varsity football lost 41-27 to the Basic Wolves on Friday, Oct. 19 for their first away game loss of the season.
In the first half, the Cougars ran and passed the ball to score seven points in the first quarter and 20 points in the second. The Coug's defense prevented Basic from scoring in the first quarter but allowed 27 points in the second.
"This looks like its gonna be a close game," Matthew Orlando (21), junior, said.
In the second half, the Cougars tempo dropped tremendously, not scoring any points in the third and fourth quarter. Basic scored an additional 14 points in the fourth quarter to give Basic the win, 41-27.
"After halftime we felt off and just couldn't get anything to work for us," Coach Griggs said.
Their next game is at Chaparral High School on Friday, Oct. 26 at 7p.m.
Men's Varsity Soccer
By Bryce Becker
Men's varsity soccer started off the week crushing Desert Oasis 5-0 in an away game on Monday, Oct. 15. In the first half the Cougars scored three goals from seniors Alfredo Diaz, Matthew Kale, and Kealan O'Toole and two saves from senior keeper Josue Ruiz. In the  second half, Cougs kept possession, scoring two more goals in the second half from seniors Moctezuma Maldonado and Paul Graham.
"Next week in practice we are going to work harder and push ourselves so that we can perform and get the result we want going into the playoffs," Taye Adams, sophomore, said.
In the second game of the week, the Cougars lost, 1-0 in a tough battle against Bishop Gorman on Wednesday, Oct. 17. After Gorman scored in the first half, the Cougs did not have the momentum to come back giving the Cougs their second loss of the whole season. The Cougars play in Regionals at Bettye Wilson on Tuesday, Oct. 30.
Men's Tennis
By Sage Tippie
Last week in men's varsity tennis, the Cougs traveled to Reno for the class 4A Desert League State Tournament. They defeated Spanish Springs 14-4 in their Wednesday, Oct. 17 game. They fell to Palo Verde 11-7 in their final Thursday match. They finished out the season second in the Class 4A Desert League with 14-3 wins overall.
In their first game, the Cougars crushed Spanish Springs 14-4, senior Ethan Quandt and junior Sebastian Frace led the Cougs to victory. Quandt and Frace both took 3-0 in their round of singles.
"We're at the very end of the season, and I'm really proud of all the progress we've made," Quandt said. "It's been such a great season, and I'm glad I got to end my last year of tennis on a high note."
In the second game the Cougs fell to the Panthers 11-7. Earning 2-1, Frace and sophomore Zachary Sullivan defeated Palo Verde in their round of doubles.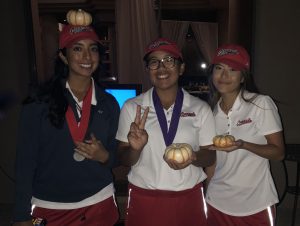 Women's Golf
By Matthew Eskridge  
Women's varsity golf took their fourth consecutive 4A State Golf Championship win on Tuesday, Oct. 16 at the Dayton Valley Golf Course. Senior Victoria Estrada led the Cougs scoring 73 in round one along with senior Crystal Querol who scored 78 in the second round.
"I think for state, my teammates and I wanted to focus on the big picture and just have fun," Querol said. "It's my last year along with Victoria's so we want to enjoy it while it lasts."
The road to state began in regionals, after the Cougs placed fourth in the Desert Region tournament on Wednesday, Oct. 10 at the Stallion Mountain Golf Club. Estrada placed second with a score of 72, 73. Querol placed sixth scoring 76, 81 to help the Cougars qualify for State. Unlike regular matches for state and regionals you aren't judged as a team, but for your personal score. In order for women's golf to be eligible for State everyone had to place top 12, an accomplishment the Cougars achieved early in the game.
"Regionals was a little rough because we weren't competing as team but as individuals," Querol said. "There were some off days but we picked each other up but in the end we all played our game.