Men's Basketball
By Ryan Kelleher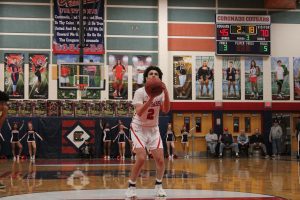 The men's varsity basketball team defeated the Silverado Skyhawks 93-79 at home in the Southwest League regional quarterfinal on Friday, Feb. 15. Varsity secured the victory by outscoring the Skyhawks every quarter and playing superior defense. Sophomore Jaden Hardy (#1) was the highest scorer with 26 points while junior Jhaylon Martinez (#33) contributed with 19 points and 10 rebounds. Juniors Felix Reeves (#5) and Tyrell Hunt (#10) scored 11 and 15 points respectively.
"We have been practicing harder then ever, as we consider playoffs to be a new season," junior David Cantor said. "We have spent our entire three-day weekend together whether it was at practice or watching film. We wanted to get our chemistry up and prepare for Tuesday's game."
The Cougars play the Bishop Gorman Gaels today at Foothill High School at 4:40 p.m. for the Southeast League regional semifinal.
Women's Basketball
By Bryce Becker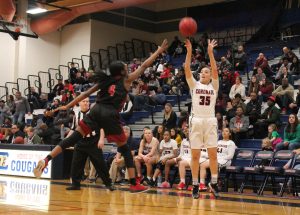 Women's varsity basketball lost a tough battle to Spring Valley 55-82 in the regional quarterfinals on Tuesday, Feb. 12. The Grizzlies took the lead in the first half, and their strong defense held the Cougars from coming back.
"I think the team played pretty well; we didn't have the outcome we wanted, but we all definitely grew as a team and as people from this season," senior Katie Hamlin said. "The student support really contributed to the energy and excitement we had this season."
The Cougs finished the season 14-11 overall and 6-4 for league.
Flag Football
By Matthew Eskridge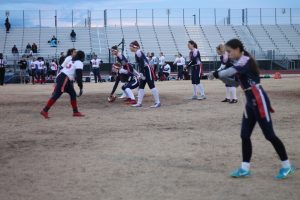 Varsity flag football blew out Liberty 25-0 on Wednesday, Feb. 13 in a home playoff game to send the Cougars to the next round. Flag won again 20-0 on Friday, Feb. 15 against Sierra Vista.
In the home match against Liberty, sophomore Kaylee Zicha rushed for 81 yards averaging five yards per carry. Freshman Ashtyn Almeido, quarterback, led the team to victory with 179 yards, four touchdown, and 22 completions.
The Cougs ended the week winning against Serra Vista 20-0 despite the 48-degree weather with a 20 mph wind gust. Senior Jaelyn Eisenhart carried the team to victory with 132 rushing yards averaging nine yards per carry.
"Last week's game was a tough one for the fact of weather conditions," sophomore Kaylin Hall said. "As a team, we got through it with the help of Jaelyn and her successful runs."
The Cougars next playoff game is away versus Green Valley today at 4:00 p.m.