By Maya Fankulewski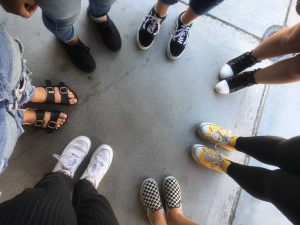 Everyone has a favorite pair of shoes they wear on a daily basis. Whether they're Nike Air Force 1's, Vans or Birkenstocks, shoes can make or break the outfit. Of all the trendy shoes, you've likely owned, heard about or seen. 
Vans
Since 1966, Vans Skateboarding Co. has taken over the world of skate shoes and offered a wide range of styles for kids, women and men. This popular shoe brand is worn by numerous celebrities and musicians. Slip ons, Old Skool, and Classic vans are some of the most popular styles. Their versatility allows them to add a trendy look to any outfit.
"I like Vans because they are really VSCO, and they match all of my scrunchies," sophomore Ashley Balfour said. "The checkered vans are my favorite because they are the most basic."
Converse
Almost everyone has owned a pair of Converse in their life. These American classics have been worn by kids, teenagers and adults for decades and are still in style today. From classic to high top and any color imaginable, Converse can go with any outfit for many occasions like football games, a day at school, or just hanging out. Putting a pair of converse on before walking out the door is a favorable way to finish an outfit.
"I think that Converse are very comfortable and can match everything." sophomore Yasmine Qutob said. "I like the pair that I own because they are white, and white shoes are trending right now."
Nike Air Force 1
This popular white shoe was originally meant to be worn by basketball players, is worn as everyday shoes today. Last year they sold out in dozens of stores around the country because of their reemergence with today's style in the 80's. Nike Air Force 1's look comfortable with leggings, jeans, and whatever top. They are the perfect go-to shoes for school, as they match any outfit and can function as athletic shoes.   
"I wear Nike Air Force 1's cause they are really comfy." sophomore Emily Fankulewski said. "They also match with everything so you can't go wrong with them." 
Birkenstocks
A popular worn sandals by teenagers and young adults are Birkenstocks. After becoming part of the VSCO trend, Birkenstocks made an appearance as comfortable and trendy sandals that are easy to throw on for a busy day at school or a relaxing day at the beach. Varying in different colors and materials, the sandals add personality to any outfit. Birkenstocks are also great to pair with a colorful pair of socks for the colder months. 
"I have Birkenstocks because they are fairly easy to slip on," freshman Iga Morgas said. "They are also comfortable even though they don't look like it."
Doc Martens
Since the 1900's, the iconic Doc Martens have been making a statement. The stylish boots add an edgy element to any outfit, creating a whole new look. Doc Martens can be worn year round because they look outstanding with any outfit. These boots pair nicely with black ripped jeans or gingham pants, and they also look outstanding with distressed jean shorts when it's hot outside. 
"I like Doc Martens because you can wear them all year long." sophomore Dhanvi Yuvaraj said. "I also think they make any outfit look better."
Whatever shoes you wear on a daily basis add style and comfort to your outfit. Whether it's white Old Skool vans, black Birkenstocks, or any other shoe, the ones you worn each day compliment moods and personalities. The shoes worn contribute as a finishing touch to your outfit, so make it, don't break it.