By Riley Cable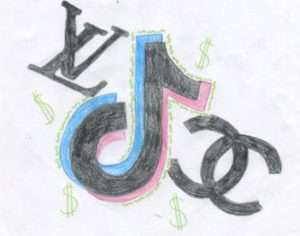 For some people, a conventional job just isn't in their vocabulary. Sitting at a desk working a 9-5 shift just isn't the best option, so it's time to think of alternative career paths. If you're simply at a loss of what to do with your life, I have the perfect option: become Tik Tok famous. Life is simple nowadays. If you can successfully dance to Doja Cat's "Say So" or make a super relatable POV, then you're on the right track for fame. Next thing you know, you're on a plane to Hawaii with Jacob Sartorious or living alongside Lil Huddy in the Hype House.
Making that daily commute into the office just might not be essential anymore. As long as you own some sort of device that can download Tik Tok, you're halfway to your end goal. It all starts with the tightest Brandy crop top and the baggiest, gray sweatpant. If you're a boy, skip the crop top and head straight to the sweats. Once you come up with that revolutionary dance that only another couple hundred thousand people have done, it's time for operation "Get Famous." Set the phone up in the perfect place to ensure the best angles. If you're a born Tik Tok star then you may only have to do the dance 50 times, but not everyone is as blessed as Charli D' Amelio, so you may need to do the dance several hundred times. 
For those who decide to skip all the dances and dip their toes into the humorous videos, then start by thinking of your most sad and self-deprecating thoughts. Stop automatically thinking that you're naturally funny and can come up with LOL worthy content. Dig deep inside that mind of yours and bring out your embarrassing stories or "simp" thoughts because that's what'll get the most attention. Turning sadness into humor is the perfect option because they tend to be the most relatable videos that everyone will share with friends. Once you go viral and become famous, you can turn your frown upside down since you've made your goal a reality.
One of the most popular genres of Tik Tok videos is POVs, point of view videos. Coming up with a POV is like an Olympic sport. If you aren't the first one to come up with the idea, prepare to be dragged in the comments because people only like original content. You can not be caught doing the same idea as someone, even if it's an accident. Professionals don't mess up, and they definitely don't steal others' ideas, unless they're a super small nobody. Becoming famous through POVs can give you a promising future. POVs open the door to many alternative examples of one particular situation; playing it safe and doing a POV of being at a party leaves you infinite perspectives. 
If all else fails, as long as you have the perfect look, all you need to do is stand in front of the camera looking perfect. The app is filled with 15-year-olds who look 21, so if you meet that basic standard, you're sure to gain followers. When the time is right, the Tik Tok fairies will select your video and bring it on the "For You Page" and you'll be renegading away into the sunset.