By Ellis Sondrup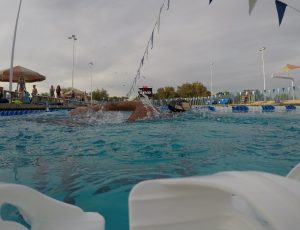 From being a captain on the swim team to keeping her grades high in AP classes, Pilar Cohen does it all. In her freshman year, she shattered both the 50 and 100 yard freestyle records for Coronado, yet her impact on Coronado did not stop there. Not only did she continue to excel in the classroom, but she stood out among her peers as a leader and friend, being nominated for homecoming court each year she attended Coronado. She will be graduating this spring with an Advanced Honors diploma, including a seal of biliteracy. 
"As a freshman, I was impressed by her work ethic and vision," head swim coach Mr. Stump said. "She knows what she wants to do and works towards those goals. As a swimmer, she has always been very in tune with what she has done in a race." 
However, not everything has been so picture-perfect for this swim standout. Following her commitment to West Point, she began her application process, including the physical tests that must be completed to be accepted into a military academy. One doctor found evidence of asthma, something that she had never felt the effects of and never had an issue with. Cohen had to jump through hurdle after hurdle to find doctors that could perform the tests needed in order to be cleared for military service. Soon, she was set to swim for West Point. 
However, when acceptances were handed back, it showed that she had not passed her medical examinations and that the asthma would prevent her from her dream of serving in the military as a psychologist. Within three days, she was given the news, told the coach could do nothing and her spot on the team was filled. 
"I wanted to go to West Point to be a part of something greater than me," Cohen said. "West Point's legacy and education are extremely prestigious, so going there would've been awesome." 
Apart from this disappointment, Pilar remains excited for her future. Following the news that she would not be able to swim for West Point, she once again entered the recruitment pool. Within a week, she had multiple schools, including Washington State, Seattle University and the University of Northern Colorado, recruiting her and offering her spots on their swim teams. Despite her previous plans of moving far, Pilar decided to stay close to home and has accepted an offer to swim for UNLV. 
"I chose UNLV after West Point because of its overall feeling. I know the coaches and how passionate they are about their swimmer's well-being, as well as concerned about everyone's academic route," Cohen said. "You can truly tell that they love what they do, and it shows in their conference championships." 
Cohen is looking forward to competing for UNLV and majoring in psychology with a minor in neuroscience. She is accepting multiple scholarships, some for swim and multiple merit scholarships from the university. Even though she is staying close to home, Cohen plans on taking advantage of every opportunity and making the most of her college experience here in town. 
"In a way, being a part of UNLV's [swim] team is going to be challenging," Cohen said. "Their team is already known for how fast and dedicated they are toward the sport, and I truly hope that I will be able to add to that!"