Varsity Softball
by Aubree Gearhart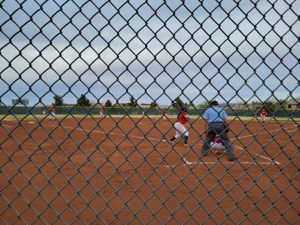 The Coronado Cougars varsity softball team took on the Palo Verde Panthers on Wed., Mar. 9. The final score of the game was 6-7, the Cougars taking a close loss. With this being the Cougar's first game of the season, the pressure was on. 
"We were a little bit nervous for our first game." senior Julia Padilla said. "Regardless, we were excited to be able to play together as a team again." 
The cougars made several great plays with great runs as well as having great bats. The Cougars lost by one run. 
"We worked hard, but didn't succeed in the end." senior Faith Javate said. "The teamwork we made will help us for the rest of the season."
Catch your cougars in action Wed., Mar. 23rd at 3:30 at Shadow Ridge against the Shadow Ridge Mustangs.
Men's Baseball 
by Brianna Gracia
On Thurs. March 10, Coronado took on Faith Lutheran. It was one home-run of a home game, as Coronado won in a landslide16-1. 
"I really liked the energy at the game," senior Zach Dawson said. "The fans were super supportive and the stadium was packed." 
Coronado's boys varsity baseball team is known for being an incredibly strong team, and fans could see this with their quick upward trend of scoring. In the first inning, they managed to score 3 points. By the time they'd reached the third inning, it had increased to 10 points. 
"We were pretty bonded at that game," senior Zach Dawson said. "Our energy was contagious. It really kept everyone in the game." 
Catch Coronado again on Fri., March 18. They will be taking on Spring Valley in an away game at 3:30.