Coronado Swim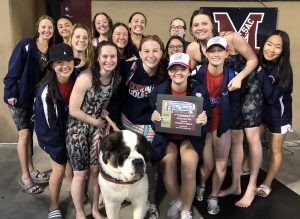 By Addison Stanton 
On Friday and Saturday, March 18th and 19th Coronado's Swim team took on multiple other schools in California.
"Since I was on a zone variance, I had to swim with the boys to swim full lengths like the 100 and 200 fly," sophomore Apple Gwinn said. "In this race against the boys, I broke two varsity swim records and beat all of the boys."
Between a girl beating all boys and multiple varsity records getting broken, this meet was quite the show for Coronado's swim team. One varsity record was rebroken by the same person who broke it the first time. Not to mention that there were also Automatic All-American qualifications being achieved. 
"I was able to break the varsity record in the 100 backstroke that I set last year," said senior Daniel Nikoloff.
To continue on with the accomplishments in this meet, junior Maddie Herbert placed first in both of her individual events along with a relay. Herbert also achieved two automatic All-American qualifications in the 200 freestyle and the 100 freestyle. Along with the automatic qualifications, she got 1 All-American consideration cut the 50 freestyle and a meet record in the 50 freestyle. To be considered for All-American, you have to get a certain time in that said event. For an automatic All-American qualification you have to get an even faster time than a consideration time.
Coronado will be competing in another swim meet March 25th and 26th.
Track and Field
By Addison Stanton 
On Friday, March 17th Coronado's track team competed against other schools at a home track meet. 
"I qualified for regionals in the 100 and 200 dash at this meet," said sophomore Tia Garr. "In the 100 I had a time of 13.5 seconds and in the 200 I had a time of 27.8 seconds."
At this home meet, Coronado had multiple track runners and field athletes. The meet ended up going on for about 4 hours. If you qualify for regionals you also make the varsity team. Multiple runners and field athletes qualified and made varsity at this meet. If the regional qualifications weren't enough, the female track team placed first with a total of 143 points and the male track team placed second with a total of 93 points. 
"I started off slow on the first two hurdles and then I got my feet under me and gained on everyone," said sophomore Mia Howser, "I got into second place and then the first place girl fell on the last hurdle so I finished first. In this run, I got a new personal record of 57 seconds."
Coronado will be competing in another home track meet on March 30th.
Men's Volleyball
By James Williams
The Coronado Men's Volleyball team played their 11th game of the season against the Cimmaron-Memorial Spartans. Coronado went on to defeat the Spartans 3-0.
This was another away game for Coronado during the regular season. The Cougars are having a strong start to the season with an impressive 10-1 record. The team would not have this success without their skill.
"We are pretty much unstoppable when we play our game," senior Hudson Brandon (#12) said. "That's why we have a good record right now."
The Cougars played a dominant game in their first league away game. After going giving up 14 and 16 points in their first 2 sets, the Cougars won their final set 25-9. The great start for the Men's Volleyball team continues as they won 3-0.
"It was a great game overall," senior Hudson Brandon said. "It wasn't a perfect game, but we got the job done." 
Coronado will next be facing Bishop Gorman at Bishop Gorman High School on Thursday, Mar. 24 at 6:00 p.m..
Varsity Baseball
By Brianna Gracia
Last week, Coronado had a solid winning streak – playing Liberty on Mar. 14, scoring 5-4, beating Rancho 9-6 on Mar. 16, and taking the game home against Arbor View on Mar. 18 with a score of 16-1. 
"I think we played really well, but there's always stuff to improve," senior Dallen Smith (#2) said. "We have to stay alert, stay ready."
Senior Parker Vint was acknowledged as the Player of the Game by Prep Baseball Report. Having played hard during his time at Coronado, Vint is taking the next step. He will be going to Arizona Western to continue his baseball career. 
"Being in a baseball environment and building chemistry with the boys has really helped me move to the next level," senior Parker Vint (#11) said.
Catch Coronado at their away game against Desert Oasis today at 3:30.