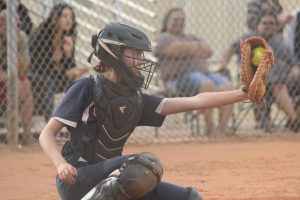 Striking Out// Senior Emma Koenig (#2) catches a strike pitched by sophomore Kendall Selitzsky. This was the 3rd strike getting the batter out and starting a new inning.
Women's Varsity Softball 
by Aubree Gearhart
On Thurs., April 28, 2022, the Coronado Cougars varsity softball team took on the Faith Lutheran Crusaders. The final score of the game was 13-3, the Cougars taking the loss. 
"Our bats started the game," said senior Ashley Zavala (#3) "We did a great job at-bat, but our defense just wasn't there. They also had great at-bats and we just didn't finish the game all the way through." 
The Cougars had astonishing hits throughout the game, batting was on point during this game. Their downfall this game was their defensive play, with a poor defense letting the Crusaders score several runs. 
"We kept up with them in the first few innings and then we lost our focus and hype," said senior Emma Koenig (#2) "We realized that we have to keep up our motivation throughout the whole game to be successful. 
This game made the Cougars realize that in order to work together as a team they have to be able to communicate and be positive. 
On Sat., April 30, 2022, the lady Cougars took on the Basic Wolves. The final score of the game was 3-1, the Cougars taking the loss. 
"We didn't get the outcome we wanted." said senior Emma Koenig (#2) "However, we did give opportunities to new players and gave them a shot at proving themselves." 
During this close game, the Cougars were unable to pull through the win and did not get their preferred outcomes of the game. 
Catch the lady Cougars back in action on Wed., May 4, 2022, at Coronado fields as they take on the Rancho Rams. This game will also be the Cougar's senior night game.
Men's Varsity Volleyball  
by Emma Barton 
On April 26,2022, our mens volleyball team defeated the Green Valley Gators. This was the Cougars second time playing the Gators. The first time the Cougars played them they lost 3-0.This game they were able to beat the Gators by working together as a team. This was a huge win for them, they are now 4th in 5A division. 
"It felt good to beat Green Valley." said senior (# 16) Eoin O'toole "I think this game really displays what happens when we trust one another and play our game." 
On April,28,2022,the mens volleyball team had their senior night. They beat the Palo Verde Panthers and lost 3-0. Although they lost  on senior night, this game was able to teach the Cougars better communication skills as well as having trust in their teammates, this will help them during playoffs. This was the last regular season game for the Cougars,they will be playing in the playoffs next week.
Men's Varsity Baseball
by James Williams
The Coronado Men's Baseball team played their 29th game of the season against the Las Vegas Wildcats. Coronado lost to the Wildcats at home 7-1.
This was another home game for Coronado during the regular season. The Cougars are having a good start to the season with a winning 16-12-1 record. However, the team was hoping bounce back after a home loss to Centennial.
"Every game that we play is important for us," senior Kye Kiernan said. "Winning games is the only result that we want to see at the end of a game."
The Cougars put up a good effort in their second contest against Las Vegas this year. After scoring one run in the first inning, the Cougars couldn't manage another run to stay in the game. The effort was there, but not good enough in a 7-1 loss. 
"It wasn't a good game for us," senior Kyle Kiernan said. "We are going to forget this loss and move on to the next."
Coronado will be facing the Centennial Bulldogs at Centennial High School on Mon., May 2, at 3:30 p.m.
Varsity Golf
by Addison Stanton 
On Wed., April 27th, Coronado's Golf team took on multiple other schools in Nevada.
"I feel very grateful to be able to be a role model for the younger guys on the team, said senior Brett Sawaia. "I learned from the older guys that I played with when I was younger and they taught me how to be a role model."
The golf team's senior night took place this night. They have had an impeccable season as they have won all of their league matches so far, this night was no different. The golf team won their last match by 15 shots. This is just another win under the belt of the Coronado's golf team as they attempt to reach their goal of advancing to regionals. 
"The season has been going well and we are definitely excited for the postseason," said Sawaia.
Coronado's golf team will attempt to continue their streak on Tuesday, May 3rd.
Swim and Dive
by Brianna Gracia
Coronado's Swim and Dive team celebrated their Senior Day at the Multi-Gen during the final dual meet. Women's team came out victorious with a score of 201-86 against Boulder City. Men's team took the game home with a score of 184-98 against Shadow Ridge. 
"It was kind of sad because that was our last meet," said senior Elisa Vaher. "But at the same time, I got to go through it with all of my friends." 
The team has had an undefeated dual meet season all year. Such a feat is hard to accomplish, but Coronado's Swim and Dive managed to achieve it through hard work, perseverance, and teamwork. 
"Having this strong team connection has definitely helped us reach this point," said senior Ayano Hamajima "Having teammates cheer you on and also encourage each other is so motivating." 
Though the match was won, seniors were certainly bittersweet about the end to such an eventful season. 
"It's honestly such an amazing feeling to see our team succeed together," said senior Ethan Chir. "I think a huge part of why we have done so well is the work ethic that everyone puts forth, but also the team environment that the coaches, captains, and the rest of the team create. Knowing this was my last swim season, I just wanted to enjoy each meet and not take anything for granted. We may have been successful at the dual meets, but our job is never finished."