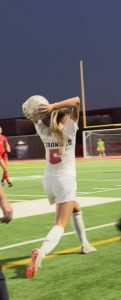 Women's Varsity Soccer
by Addison Stanton
On Tuesday, September 13th, the Coronado women's varsity soccer team faced off against Sierra Vista. To keep the Cougars undefeated, the game ended in an 8-0, mercy ruling, win.
"We played very well," said freshman Ryan Neel. "We were able to be calm and connect the ball."
Starting off strong, the Cougars possessed the field and sent the opposing team running. After beating the outside back, senior Xayla Black, took it all the way home starting the scoring streak for the Cougars. About halfway through the first half, a ball played from junior Camryn Piccinini to freshman Ryan Neel, made it 2-0. Before you know it, the halftime whistle was blown and the Cougars had a 5-0 lead.
"We were very calm in the attacking third." said Neel "We were able to finish a lot of goals using different methods." 
Sierra Vista started out the second half with a long ball that was efficiently blocked by the Cougar's defensive line. With more passing as the game progressed, this led to more build-up to the goal. A precision-packed kick from senior Daphne Egelhoff found its way into the top right corner making the game 6-0. A little over halfway through the second half, junior Tia Garr takes a free kick that floats itself over the goalkeeper's head and into the net giving the Cougars an 8-0 win.
"Our season is going great so far and I hope to keep up the good work and keep going," said Neel.
The Cougars will try to continue their reign at Arbor View high school on September 15th at 6 pm.
Women's Varsity Soccer
by Addison Stanton
On Thursday, September 15th, the Coronado women's varsity soccer team kicked off against Arbor View. To keep the Cougars on their winning streak, the game ended with the Cougars on top 2-1.
"We handled ourselves well," said junior Tia Garr. "Even under pressure, we were able to defend strong."
While Arbor View had some tall players, it was no match for Garr. Starting off the game strong, Garr dribbled into the 18-yard box and scored the game opener giving the Cougars a 1-0 lead. Later in the first half, Arbor View penetrated the Cougars' defense and scored one making the game 1-1. However, junior Sierah McCallum responded with a run down the sideline and a near-post finish giving the Cougars  a final score of 2-1.
"I think that we did a good job in holding them off and keeping the energy high," said Garr.
The Cougars will fight for another win against Palo Verde at Palo Verde on Monday, September 19th at 4:30 pm.