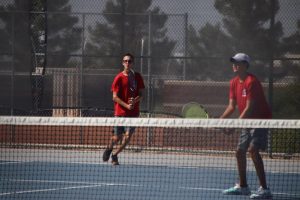 Varsity Tennis
by Sienna Nicholson
Despite the free day from school, Coronado's men's and women's tennis teams were hard at work winning a home against Bishop Gorman at 3 pm on September 12th. The final score being 13-5 for the men and 38-34 for the women. With several matches going on at once, there was plenty to watch and enjoy.
"I thought I was hitting well. My serves were really good today. It was a great match," said junior Natalie Pettersson. The game played out for only a quick fifteen minutes as Pettersson repeatedly secured points with her quick serves. Her competition was tough as they rallied back and forth, but even with a couple hit to net setbacks, Pettersson came out on top. 
Along with Pettersson, the rest of the women's team played out a tough victory, initially tying 9-9. The super-tiebreak was long and tough, but eventually Coronado pulled through, landing on top with a close 38-34.
Meanwhile, things weren't looking good for the men. A doubles game with senior Davin Roza and junior Luca Feng started out strong with an immediate serve and score by Roza, but it didn't last. Even with plenty of close saves such as a tight spike by Feng and a quick save by Roza, Gorman swiftly overtook the two with an eventual victory of 1-6.
However, despite the loss, Roza was still proud of their work. "We played fine," Roza said. "We messed up a couple of times but overall we played pretty well."
While games were turning out grim for the men, things soon turned around. Several long rallies played out amongst the teams and a victory was soon secured, demolishing Gorman with an overall score of 13-5.
"I'm really glad I was able to support my friends," commented senior Ryan Peralta from the stands. "I thought the teamwork was great in the doubles matches, working together like a well oiled machine."
It was a tough fight, but overall Coronado was able to snatch a successful victory over Bishop Gorman. Come support the Coronado tennis teams at their next game on Wednesday, September 14th at 3 pm, playing against Clark at Clark High School.
Men's Varsity Soccer
by Tainá Queiroz Fonseca 
On Monday, September 12, the Coronado men's varsity soccer team took on Bishop Gorman during their day off from school and walked away with a 5-3 win.
"Today was a great game filled with energy," said senior Demonte Gordon (#17). "Everyone played their part in this game and that's what led us to success. We never let up. Very exciting to see more people than usually show up to support,"
Bishop Gorman came out strong with a header causing pressure on the back line and resulting in an own goal. Coronado's very own senior Mihai Ciobanu (#10) was given a yellow card and subbed out. Senior Francisco Avila (#7) took a stumbling fall but Avila got up and scored Coronado's second but not final goal. Not much time passed before junior Gavin Pierce (#13) sprinted towards scoring Coronado's third goal.
"I thought we started slow as as the game progressed we were able to adapt and score goals to get the win," senior Finnegan Gustafson said (#22).
As soon as the second half kicked off, Ryder Breeden (#3) scored a 4th goal for Coronado. The Cougs and their fans were sure that the game would finish with only one goal for Gorman, but Bishop Gorman's player #1 scored their second goal in a penalty kick.
 By the last 5 minutes of the game, Gorman wasted no time to score another own goal as Gorman's goalkeeper passed the ball to Gorman's #3 who then kicked it into their goal, giving Coronado another point on the board. Bishop Gorman scored their third goal in the last minute of the second half, but it wasn't enough for them to win the game.
The ending score was 5-3, although many fans joked about whether or not to count a 6th goal scored on the American Football posts. With two of their goals being goals made by the other team, the Coronado Cougars are sure to thank Gorman for their help.
Coronado will continue to work hard at their next home game on September 14 at 4:30 pm against Las Vegas high school.